Research Updates
Spring
Congratulations to Menggui Huang, PhD, recipient of the Outstanding Poster Award given by The North American Vascular Biology Organization's annual conference.
Congratulations to Dr. Christoforos Thomas who accepted a Research Assistant Professorship with The University of Houston beginning in February.
Congratulations to Dr. Amit Maity who accepted a Chairmanship with the University of Utah Spencer Fox Eccles School of Medicine and the Huntsman Center beginning in June.
News Flash: Constantinos Koumenis, PhD, the Richard H. Chamberlain Professor of Research Oncology, spoke about Penn Medicine recently being awarded a $12.3M NIH Grant to study ultra-fast, high-dose FLASH radiation therapy for cancer. Listen to the podcast here
Fall
Congratulations to Ioannis Verginadis, PhD, Adjunct Assistant Professor, Department of Radiation Oncology for receiving the 2 below awards!
Early Career Investigator (ECI) Travel Award at the Annual Meeting of the Radiation Research Society (RRS)

Best Abstract Award at the Flash Radiotherapy and Particle Therapy Conference (FRPT)
Winter/ Spring
Research has 2 Transdisciplinary Awards Program in Translational Medicine and Therapeutics from ITMAT awards to celebrate:
Ioannis Verginadis, PhD, PI on Pre-clinical studies on Proton FLASH Radiotherapy for treatment of orthotopic pancreatic tumors and sparing normal intestine tissues, a 2 year award of $150K
Yi Fan, PI on Novel nano-vasculotherapy to improve glioblastoma immunotherapy, a 2 year award of $150K
A big congratulations to Ioannis Verginadis, PhD, Senior Research Investigator in Koumenis Lab for receiving the "Best Oral Presentation Award" at the 2021 Flash Radiotherapy & Particle Therapy Conference for his presentation, Preclinical Studies with Proton FLASH Radiotherapy: Biological Effects and Potential Mechanisms
Summer/Fall
Congratulations to:
Ioannis Verginadis
(Koumenis lab) for receiving the
Early Career Investigator of the
month award
from the Radiation Research
Society.
Zachary
Lampluph
for
receveing
an NIH T32 grant and to
Duo Zhang
for the American Heart Association
Predoctoral
Fellowship
award, both from Fan lab.
Yi
Fan
awarded a $2.4M NIH RO1 Grant for his study entitled "Endothelial plasticity in cardiac repair after myocardial infarction
".
The division would like to recognize the following promotions:
Keith Cengel, MD, PhD, Professor of Radiation Oncology in the Standing Faculty - Clinician Educator track
Andy J. Minn, MD, PhD, Professor of Radiation Oncology and Director of the Mark Foundation Center at Penn
Winter/Spring:
It is with great enthusiasm that we welcome Crystal Conn, PhD as Assistant Professor-Tenure Track, to the Research Division of Radiation Oncology!
Dr. Conn started with us on Thursday, January 2, 2020. She most recently was a Postdoctoral Fellow at UCSF in the lab of Dr. Davide Ruggero, one of the premier groups internationally engaged in the study of translational control of gene expression in cancer. Dr. Conn's research interests are centered on understanding the identifying adaptive stress responses that are translationally regulated, primarily in lung and prostate cancer, allowing for early detection of malignant disease with potential for new therapeutic applications. Her expertise in the salient features in translational control of gene expression, which is increasingly being appreciated as a major contributor to malignancies and immune system function, will enable her to interface with multiple groups within the RadOnc department, as well as the School of Medicine and beyond.
We would like to recognize Alexi Dreyfuss from the Koumenis Lab on graduating with her MD/ MTR. She defended her MTR Thesis based on work in the Koumenis lab.
Summer/Fall:
Please join us in congratulating Theresa Busch, PhD on her appointment as the Radiation Oncology Department's first Vice Chair for Inclusion, Diversity and Equity. This new role will both report to and work closely with the Department Chair to oversee, promote, and facilitate excellence in diversity, inclusion, equity and anti-racism efforts across all aspects of the department. The Vice Chair is responsible for creating and maintaining a culture that embraces inclusion and ensuring that all departmental policies and practices are grounded in the tenants of equity and anti-racism. Together with departmental leadership, the Vice Chair will examine our research, clinical and educational activities through the lens of diversity, equity and inclusion, and develop strategies to build a strong culture of anti-racism as well as metrics to measure the success of these strategies.
Congratulations to Ioannis Verginadis, Senior Research Investigator, on winning the Career Development Award from the Radiation Research Foundation on the project entitled "Delineating the role of STAT3 on normal tissue radioprotection and pancreatic tumor radiosensitization in a preclinical setting ". This proposal is based on data generated in the past 2 years regarding the effects of focal radiotherapy on intestinal damage. Together with Dr. Constantinos Koumenis and Dr. Edgar Ben-Josef, Ioannis developed a novel, more clinically relevant mouse model of intestinal radiation injury based on precision, image-guided radiotherapy using the Small Animal Radiation Research Platform (SARRP). This model gives us the unique capability to fully mimic the clinical setting because we can study both irradiation(IR)-induced damage to the normal intestine and the impact of IR on orthotopic pancreatic tumor models in the same mice. The goal of this effort is to translate the findings into human clinical trials for early detection and therapeutic intervention of radiotherapy(RT)-induced intestinal toxicity. If the results are promising, Dr. Ben-Josef will initiate a clinical trial using the STAT3 inhibitor OPB-51602 combined with RT as a novel treatment for pancreatic tumors.
Congratulations to Dr. Gary Kao and Dr. Jay Dorsey for their participation in the paper entitled "Multi-block Discriminant Analysis of Integrative 18F-FDG-PET/CT Radiomics for Predicting Circulating Tumor Cells in Early Stage Non-small Cell Lung Cancer Treated with Stereotactic Body Radiation Therapy", which was an Award Winner at the Science Council Session of the 2020 American Association of Physicists in Medicine (AAPM). Authors of the paper: Sang Ho Lee, PhD, Gary D. Kao, MD, PhD, Steven J. Feigenberg, MD, Jay F. Dorsey, MD, PhD, Melissa A. Frick, MD, Samuel Jean-Baptiste, MD, Chibueze Z. Uche, PhD, Yong Fan, PhD, Ying Xiao, PhD
The division would like to recognize the following promotions:
Meena Swaminathan, Director of Fiscal Operations
Christie Foti, Payroll and Onboarding Manager
Jenine Iannaccone, Grants Manager B
Yi Fan, MD, PhD, Associate Professor of Radiation Oncology in the Standing Faculty
Andy Minn, MD, PhD, Professor of Radiation Oncology in the Standing Faculty
Congratulations to
Dr. Andy Minn
, associate professor of Radiation Oncology and appointed director of the newly established Mark Foundation Center for Immunotherapy, Immune Signaling, and Radiation at the University of Pennsylvania. The $12 Million Grant will study the connection between radiation and immunotherapy. Read the
News Release
.
The Division would like to recognize Dr. Theresa Busch on her National Cancer Institute R01 Titled: Photodynamic therapy with prior inhibition of epidermal growth factor receptor to stimulate antitumor innate immune response
Congratulations to Dr. Andrea Facciabene on his promotion to Research Associate Professor!
Congratulations to Dr. Christoforos Thomas, member of Dr. Amit Maity's Lab, on for receiving a $50,000 Research Award from the PA Breast Cancer Coalition.
Congratulations to Dr. Yi Fan for receiving a 2019 Sharpe Award from National Brain Tumor Society (NBTS)
The Division would like to recognize Feven Tameire of the Koumenis Lab for receiving her Doctorate in Cancer Biology.

Congratulations to Dr. Yi Fan on receiving the Research Excellence Award from American Heart Association.
Please join us in congratulating Dr. Yi Fan, along with Fan Lab in publishing the paper, Vascular niche IL-6 induces alternative macrophage activation in glioblastoma through HIF-2α, in the prestigious Nature Communications.

Congratulations to Dr. Yi Fan – the 2018 Springer Junior Investigator Award Recipient! He was awarded at the Vascular Biology 2018, where he presented his Springer Award lecture, "Wnt-mediated endothelial transformation into mesenchymal stem cell-like cells induces chemoresistance in glioblastoma"
To Dr. Yi Fan for receiving 3 awards:
•Brain Cancer Investigator Award, B*Cured Foundation
•Young Investigator Award, Cancer Stem Cell Conference
•Innovative Project Award, American Heart Association
June
Congratulations to Dr. Yi Fan for recently receiving the following two awards: the Sharpe Award from National Brain Tumor Society (NBTS) and the Early Career Investigator Award from the Radiation Research Society (RRS).
May
Congratulations to Dr. Andrea Facciabene! He received an award at the Penn Center for Innovation Celebration for Innovation, held on May 3, 2017. Dr. Facciabene was honored for two US patents (# 9,289,426 and #9,290,556). Respectively, these inventions involve Methods and compositions for treating solid tumors and enhancing tumor vaccines and Tumor vascular marker-targeted vaccines.
February
Congratulations to all who received the Radiation Oncology Translational Center of Excellence (TCE) pilot awards!
Using Radiation and Blockade of Interferon Signaling to Improve Durable Response to Immune Checkpoint Blockade Co-PIs: Andy Minn, MD, PhD (RadOnc) & Taku Kambayashi, MD, PhD, (Pathology and Laboratory Medicine) Co-I: E. John Wherry, PhD (Microbiology)
PD-1 Blockade to Attenuate Surgery-Induced Immunosuppression during Intraoperative Photodynamic Therapy Co-PIs: Theresa Busch, PhD & Edmund Moon, MD (Medicine), Keith Cengel, MD, PhD Co-Is: Andrea Facciabene, PhD (RadOnc), Mary Putt, PhD, (Biostatistics and Epidemiology) & Sunil Singhal, MD (Surgery)
Hypofractionated radiotherapy as a vaccine in combination with the TLR7/8 agonist resiquimod for metastatic melanoma Co-PIs: Amit Maity, MD, PhD (RadOnc), George Xu, MD, PhD (Pathology and Laboratory Medicine), & Alain Rook, MD (Dermatology) Co-I: Andrea Facciabene, PhD (RadOnc)
The research division congratulates Dr. Theresa Busch and Dr. Zhiliang Cheng (Bioengineering) labs' for their proposal entitled Mesothelin-targeted nanophotosensitizer for photodynamic therapy of TNBC selected by the Center for Targeted Therapeutics and Translational Nanomedicine (CT3N) for funding.
We also congratulate Natalie Daurio in Koumenis Lab for a successful doctoral dissertation defense on March 28, 2016. The title of her thesis was "Tamoxifen Mediated Metabolic Stress: Molecular Mechanism and Therapeutic Opportunities.".
Congratulations to Dr. Gary Kao on the award of his R01 grant, Circulating Tumor Cells Analyses and Molecular Profiling for Patients Receiving Radiation Therapy, which was recently funded by the National Cancer Institute.
We also congratulate Dr. Stephen Avery on receiving R21 grant, Protoacoustics - Clinical Based Range Verification for Cancer Treatment. This project was funded by the National Institute of Biomedical Imaging and Bioengineering.
Congratulations to Dr. Yi Fan was recently honored as a recipient of the 2016 American Association for Cancer Research (AACR) Judah Folkman Career Development Award for Angiogenesis Research. Dr. Fan was selected for this award based on the relevance of his research to the AACR's mission and its expected impact in the field of cancer research. This award recognizes Dr. Fan's position as a burgeoning leader in cancer research.
The 2016 SUPERS program came to a close on Wednesday, August 3 with the end-of-the-program retreat where each of the fourteen SUPERS students presented a summary of their own hypothesis-driven research project. Student projects included research in molecular radiobiology, photodynamic therapy, proton dosimetry and nuclear medicine and PET imaging. In addition to their own hands-on lab experience, students took part in lectures and research discussions led by many of our faculty, as well as faculty from the departments of Radiology and Bioengineering. As the keynote speaker for the event, Dr. Michelle Alonso-Basanta from Penn Radiation Oncology described how her experiences as an undergraduate piqued her interest in a career as a clinician scientist. 2016 represented the 7th summer for the SUPERS program, to date SUPERS has graduated 80 alumni and the vast majority, nearly 90%, have gone on to graduate and/or medical school.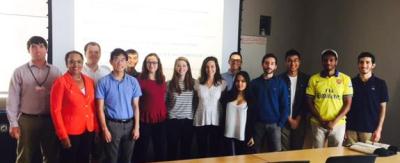 2016 SUPERS students pictured with Dr. Eve Higginbotham, Vice Dean for Inclusion and Diversity at the Perelman School of Medicine. Dr. Higginbotham shared her own formative experiences as an undergrad while stressing the importance of diversity and inclusion to the future of research and medicine in the biomedical research community.
PDT: It's Not Just For People! - Check out this link for a story on how photodynamic therapy was recently used to treat Anita the horse for squamous cell cancer that surrounded both of her eyes. Photodynamic therapy, or PDT as it is frequently called, utilizes a light-sensitize drug and lasers to kill cancer cells. Anita's treatment was possible through the collaborative effort of Penn Medicine's Radiation Oncology and Penn Vet's Large Animal Ophthalmology. PDT is studied for treating cancer in people by Radiation Oncology physicians, physicists, and scientists through a multidisciplinary grant that is funded by the National Institutes of Health. It is currently under investigation through the Abramson Cancer Center for the treatment of malignant pleural mesothelioma in conjunction with surgery.
The Research Division congratulates Dr. Cameron Koch on receiving the Outstanding Research Award along with the late Dr. James Raleigh of University of North Carolina at Chapel Hill. This award was presented by Members of the Tumor Microenvironment Research Community at the 14th International Tumor Microenvironment Workshop in Vancouver, British Columbia. It is in recognition of Dr. Koch's contributions to the identification, characterization and targeting of the tumor microenvironment for the advancement of cancer therapy and patient care.
We congratulate Dr. Andy Minn as the recipient of the 2015 Scientific Research Award presented by the American Cancer Society in honor of his outstanding leadership and accomplishments among local cancer professionals.
Additionally, congratulations are in order for Dr. Yi Fan on receiving the McCabe Award from the Perlman School of Medicine for his work on targeting endothelial plasticity to treat brain tumors.
At the recent departmental retreat, Drs. Minn and Fan were further recognized for their achievements through awards for the Radiation Oncology Innovation Award and the Radiation Oncology Young Investigator Award of Excellence, respectively. The Innovation Award was presented to Dr. Minn in recognition of his novel and creative contributions to the field of Radiation Oncology. Dr. Fan received the Young Investigator Award of Excellence as a new faculty member in department (< 3 years) who has shown exemplary performance in the area of clinical service, research or teaching.
Congratulations to Drs. Jay Dorsey and Yi Fan who individually received grants on NeuroOncology Innovation from the Neuro Translational Center of Excellence of the Abramson Cancer Center. Dr. Dorsey is studying Glioma - derived Circulating Tumor Cells, while Dr. Fan's proposal is on the topic of Development of Next-Generation Vasculotherapy by Targeting Vascular Transformation. Finally, we recognize Dr. Fan on the success of his R01 grant Endothelial Plasticity in Glioma Vascularization and Therapy Resistance. This award is expected to begin in October of 2015 and includes Radiation Oncology co-investigator Dr. Jay Dorsey. This is Dr. Fan's first R01 grant and the Division shares with him our hearty congratulations.
The Research Division congratulates Dr. Andy Minn on receiving the Michael S. Brown New Investigator Research Award. This award is given by the Perelman School of Medicine for the purpose of recognizing emerging investigators who are engaged in innovative discoveries. Dr. Minn was selected for this award based on his work in studying radiation and immune therapies as they relate to the biological basis of therapeutic cancer resistance.
Initial clinical experience treating patients with palliative radiotherapy for malignant pleural mesothelioma on the HalcyonTM linear accelerator. Barsky AR, Kim MM, Maxwell R, Mendes A, Wright CM, Anstadt EJ, McNulty S, Dong L, Metz JM, Feigenberg SJ, Li T, Cengel KA. Ann Palliat Med. 2020 Aug 14:apm-20-385. doi: 10.21037/apm-20-385. Online ahead of print. PMID: 32819128
Rapid tumor vaccine using Toll-like receptor-activated ovarian cancer ascites monocytes. Adams SF, Grimm AJ, Chiang CL, Mookerjee A, Flies D, Jean S, McCann GA, Michaux J, Pak H, Huber F, Neal C, Dangaj D, Bassani-Sternberg M, Rusakiewicz S, Facciabene A, Coukos G, Gimotty PA, Kandalaft LE. J Immunother Cancer. 2020 Aug;8(2):e000875. doi: 10.1136/jitc-2020-000875. PMID: 32817208
Ovarian granulosa cell tumor characterization identifies FOXL2 as an immunotherapeutic target. Pierini S, Tanyi JL, Simpkins F, George E, Uribe-Herranz M, Drapkin R, Burger R, Morgan MA, Facciabene A. JCI Insight. 2020 Aug 20;5(16):136773. doi: 10.1172/jci.insight.136773. PMID: 32814714
Risk of pneumonitis and outcomes after mediastinal proton therapy for relapsed/refractory lymphoma: A PTCOG and PCG collaboration. Tseng YD, Hoppe BS, Dedeckova K, Patel CG, Hill-Kayser CE, Miller DM, Maity A, Mendenhall NP, Mailhot RB, Yock TI, Baliga S, Hess CB, Winkfield KM, Mohindra P, Rosen LR, Tsai H, Chang J, Hartsell WF, Plastaras JP. Int J Radiat Oncol Biol Phys. 2020 Aug 28:S0360-3016(20)34202-4. doi: 10.1016/j.ijrobp.2020.08.055. Online ahead of print. PMID: 32866566
Cell Cycle Checkpoints Cooperate to Suppress DNA- and RNA-Associated Molecular Pattern Recognition and Anti-Tumor Immune Responses. Chen J, Harding SM, Natesan R, Tian L, Benci JL, Li W, Minn AJ, Asangani IA, Greenberg RA. Cell Rep. 2020 Sep 1;32(9):108080. doi: 10.1016/j.celrep.2020.108080. PMID: 32877684
Combined fluorescence-guided surgery and photodynamic therapy for glioblastoma multiforme using cyanine and chlorin nanocluster. Teng CW, Amirshaghaghi A, Cho SS, Cai SS, De Ravin E, Singh Y, Miller J, Sheikh S, Delikatny E, Cheng Z, Busch TM, Dorsey JF, Singhal S, Tsourkas A, Lee JYK. J Neurooncol. 2020 Sep 10. doi: 10.1007/s11060-020-03618-1. Online ahead of print. PMID: 32914293
Higher Dose Volumes May Be Better for Evaluating Radiation Pneumonitis in Lung Proton Therapy Patients Compared With Traditional Photon-Based Dose Constraints. Harris WB, Zou W, Cheng C, Jain V, Teo BK, Dong L, Feigenberg SJ, Berman AT, Levin WP, Cengel KA, O'Reilly SE. Adv Radiat Oncol. 2020 Jun 29;5(5):943-950. doi: 10.1016/j.adro.2020.06.023. eCollection 2020 Sep-Oct. PMID: 33083657
Initial Clinical Experience Treating Patients With Lung Cancer on a 6MV-Flattening-Filter-Free O-Ring Linear Accelerator. Barsky AR, Lin H, Mendes A, Dreyfuss A, Wright C, Anstadt EJ, Berman AT, Levin WP, Cengel KA, Anderson N, Dong L, Metz JM, Li T, Feigenberg S. Cureus. 2020 Sep 9;12(9):e10325. doi: 10.7759/cureus.10325. PMID: 33052286
Tertiary Amine-Ethylene Glycol Based Tandem CO2 Capture and Hydrogenation to Methanol: Direct Utilization of Post-Combustion CO2. Prakash SG, Sen R, Koch CJ, Goeppert A. ChemSusChem. 2020 Oct 19. doi: 10.1002/cssc.202002285. Online ahead of print. PMID: 33075206
Low-Dose Total Skin Electron Beam Therapy as Part of a Multimodality Regimen for Treatment of Sézary Syndrome: Clinical, Immunologic, and Molecular Analysis. Durgin JS, Jariwala NN, Wysocka M, Zhang KK, Maity A, Benoit B, Plastaras JP, Lewis DJ, Rosenthal JM, Teague JE, Berg S, Del Guzzo C, Kim EJ, Vittorio C, Haun PL, Samimi SS, Villasenor-Park J, Inverso J, Clark RA, Rook AH. JAMA Dermatol. 2020 Oct 28. doi: 10.1001/jamadermatol.2020.3958. Online ahead of print. PMID: 33112366
Mechanism and Model of a Soft Robot for Head Stabilization in Cancer Radiation Therapy. Ogunmolu O, Liu X, Gans N, Wiersma RD. IEEE Int Conf Robot Autom. 2020 May-Aug;2020:4609-4615. Doi 10.1109/icra40945.2020.9197007. Epub 2020 Sep 15. PMID: 33133751
Current Delivery Limitations of Proton PBS for FLASH. Zou W, Diffenderfer ES, Cengel K, Kim M, Avery S, Konzer J, Cai Y, Boisseu P, Ota K, Yin L, Wiersma R, Carlson DJ, Fan Y, Busch TM, Koumenis C, Lin A, Metz JM, Teo BK, Dong L. Radiother Oncol. 2020 Nov 10:S0167-8140(20)30891-4. doi: 10.1016/j.radonc.2020.11.002. PMID: 33186682
Effects of ultra-high dose rate FLASH irradiation on the tumor microenvironment in Lewis lung carcinoma: role of myosin light chain. Kim YE, Gwak SH, Hong BJ, Oh JM, Choi HS, Kim MS, Oh D, Lartey F, Rafat M, Schüler E, Kim HS, von Eyben R, Weissman IL, Koch CJ, Maxim PG, Loo BW, Ahn GO. Int J Radiat Oncol Biol Phys. 2020 Nov 10:S0360-3016(20)34500-4. doi: 10.1016/j.ijrobp.2020.11.012. PMID: 33186615
Early Changes in Physical Activity and Quality of Life with Thoracic Radiation Therapy in Breast Cancer, Lung Cancer, and Lymphoma. Krishnan S, Narayan HK, Freedman G, Plastaras JP, Maity A, Demissei B, Smith AM, Berman AT, Cengel K, Levin W, Swisher-McClure S, Feigenberg S, Ky B. Int J Radiat Oncol Biol Phys. 2020 Oct 24:S0360-3016(20)34406-0. doi: 10.1016/j.ijrobp.2020.10.018. PMID: 33223046
Integration of risk survival measures estimated from pre- and post-treatment CT scans improves stratification of early stage non-small cell lung cancer patients treated with stereotactic body radiation therapy. Jiao Z, Li H, Xiao Y, Aggarwal C, Galperin-Aizenberg M, Pryma D, Simone CB 2nd, Feigenberg SJ, Kao GD, Fan Y. Int J Radiat Oncol Biol Phys. 2020 Dec 14:S0360-3016(20)34660-5. doi: 10.1016/j.ijrobp.2020.12.014. PMID: 33333202
Small animal IMRT using 3D printed compensators. Redler G, Pearson E, Liu X, Gertsenshteyn I, Epel B, Pelizzari C, Aydogan B, Weichselbaum R, Halpern HJ, Wiersma RD. Int J Radiat Oncol Biol Phys. 2020 Dec 26: S0360-3016(20)34693-9. doi: 10.1016/j.ijrobp.2020.12.028. PMID: 33373659
CT for detection of malignant posterior intercostal lymph nodes in patients undergoing pre-operative staging for malignant pleural mesothelioma. Berger I, Simpson S, Friedberg JS, Culligan MJ, Wileyto EP, Alley EW, Sterman D, Patel AM, Khalid U, Simone CB 2nd, Cengel KA, Katz SI, Roshkovan L. Lung Cancer. 2020 Dec 4; 152:34-38. doi: 10.1016/j.lungcan.2020.12.003. PMID: 33341086
Estrogen receptor β-mediated inhibition of actin-based cell migration suppresses metastasis of inflammatory breast cancer. Thomas C, Karagounis IV, Srivastava RK, Vrettos N, Nikolos F, Francois N, Huang M, Gong S, Long Q, Kumar S, Koumenis C, Krishnamurthy S, Ueno NT, Chakrabarti R, Maity A. Cancer Res. 2021 Jan 29:canres.2743.2020. doi: 10.1158/0008-5472.CAN-20-2743. Online ahead of print. PMID: 33514514
Combination of vasculature targeting, hypofractionated radiotherapy, and immune checkpoint inhibitor elicits potent antitumor immune response and blocks tumor progression. Pierini S, Mishra A, Perales-Linares R, Uribe-Herranz M, Beghi S, Giglio A, Pustylnikov S, Costabile F, Rafail S, Amici A, Facciponte JG, Koumenis C, Facciabene A. J Immunother Cancer. 2021 Feb;9(2):e001636. doi: 10.1136/jitc-2020-001636. PMID: 33563772
Serum soluble mesothelin-related protein (SMRP) and fibulin-3 levels correlate with baseline malignant pleural mesothelioma (MPM) tumor volumes but are not useful as biomarkers of response in an immunotherapy trial. Katz SI, Roshkovan L, Berger I, Friedberg JS, Alley EW, Simone CB 2nd, Haas AR, Cengel KA, Sterman DH, Albelda SM. Lung Cancer. 2021 Jan 14;154:5-12. doi: 10.1016/j.lungcan.2021.01.011. Online ahead of print. PMID: 33561782
A novel mouse model of radiation-induced cardiac injury reveals biological and radiological biomarkers of cardiac dysfunction with potential clinical relevance. Dreyfuss AD, Goia D, Shoniyozov K, Shewale SV, Velalopoulou A, Mazzoni S, Avgousti H, Metzler SD, Bravo PE, Feigenberg SJ, Ky B, Verginadis II, Koumenis C. Clin Cancer Res. 2021 Feb 4:clincanres.3882.2020. doi: 10.1158/1078-0432.CCR-20-3882. Online ahead of print. PMID: 33542079
Personal and Prognostic: Tissue and Liquid Biomarkers of Radiotherapeutic Response in Non-Small Cell Lung Cancer. Jean-Baptiste SR, Feigenberg SJ, Dorsey JF, Kao GD. Semin Radiat Oncol. 2021 Apr;31(2):149-154. doi: 10.1016/j.semradonc.2020.11.002. PMID: 33610272 Review.
The major cap-binding protein eIF4E regulates lipid homeostasis and diet-induced obesity. Conn CS, Yang H, Tom HJ, Ikeda K, Oses-Prieto JA, Vu H, Oguri Y, Nair S, Gill RM, Kajimura S, DeBerardinis RJ, Burlingame AL, Ruggero D. Nat Metab. 2021 Feb;3(2):244-257. doi: 10.1038/s42255-021-00349-z. Epub 2021 Feb 18. PMID: 33619378
Multi-block Discriminant Analysis of Integrative 18F-FDG-PET/CT Radiomics for Predicting Circulating Tumor Cells in Early Stage Non-small Cell Lung Cancer Treated with Stereotactic Body Radiation Therapy. Lee SH, Kao GD, Feigenberg SJ, Dorsey JF, Frick MA, Jean-Baptiste S, Uche CZ, Cengel KA, Levin WP, Berman AT, Aggarwal C, Fan Y, Xiao Y. Int J Radiat Oncol Biol Phys. 2021 Mar 1:S0360-3016(21)00208-X. doi: 10.1016/j.ijrobp.2021.02.030. Online ahead of print. PMID: 33662459
A stratified phase I dose escalation trial of hypofractionated radiotherapy followed by ipilimumab in metastatic melanoma: long-term follow-up and final outcomes. Maity A, Mick R, Rengan R, Mitchell TC, Amaravadi RK, Schuchter LM, Pryma DA, Patsch DM, Maity AP, Minn AJ, Vonderheide RH, Lukens JN. Oncoimmunology. 2021 Jan 31;10(1):1863631. doi: 10.1080/2162402X.2020.1863631. PMID: 33643689
Managing oligoprogressive malignant pleural mesothelioma with stereotactic body radiation therapy. Barsky AR, Yegya-Raman N, Katz SI, Simone CB 2nd, Cengel KA. Lung Cancer. 2021 Mar 2:S0169-5002(21)00093-3. doi: 10.1016/j.lungcan.2021.02.033. Online ahead of print. PMID: 33678456.
Characterization of a high-resolution 2D transmission ion chamber for independent validation of proton pencil beam scanning of conventional and FLASH dose delivery. Zou W, Diffenderfer ES, Ota K, Boisseau P, Kim MM, Cai Y, Avery SM, Carlson DJ, Wiersma RD, Lin A, Koumenis C, Cengal K, Metz JM, Dong L, Teo BK. Med Phys. 2021 Apr 12. doi: 10.1002/mp.14882. Online ahead of print. PMID: 33843065
Preclinical Evaluation of Cetuximab and Benzoporphyrin Derivative-Mediated Intraperitoneal Photodynamic Therapy in a Canine Model. Cramer G, Lewis R, Gymarty A, Hagan S, Mickler M, Evans S, Punekar SR, Shuman L, Simone CB 2nd, Hahn SM, Busch TM, Fraker D, Cengel KA. Photochem Photobiol. 2020 May;96(3):684-691. doi: 10.1111/php.13247. Epub 2020 Apr 27. PMID: 32119123
Phase 1 trial of nelfinavir added to standard cisplatin chemotherapy with concurrent pelvic radiation for locally advanced cervical cancer. Garcia-Soto AE, McKenzie ND, Whicker ME, Pearson JM, Jimenez EA, Portelance L, Hu JJ, Lucci JA 3rd, Qureshi R, Kossenkov A, Schwartz L, Mills GB, Maity A, Lin LL, Simpkins F. Cancer. 2021 May 1. doi: 10.1002/cncr.33449. PMID: 33932031
Dichotomous and stable gamma delta T-cell number and function in healthy individuals. Ou L, Wang H, Liu Q, Zhang J, Lu H, Luo L, Shi C, Lin S, Dong L, Guo Y, Huang L, Zhu J, Yin X, Huang AC, Karakousis G, Schuchter L, Amaravadi R, Zheng C, Fan Y, Guo W, Xu X. J Immunother Cancer. 2021 May;9(5):e002274. doi: 10.1136/jitc-2020-002274. PMID: 34011536
Regulation of intercellular biomolecule transfer-driven tumor angiogenesis and responses to anticancer therapies. Lu Z, Ortiz A, Verginadis II, Peck AR, Zahedi F, Cho C, Yu P, DeRita RM, Zhang H, Kubanoff R, Sun Y, Yaspan AT, Krespan E, Beiting DP, Radaelli E, Ryeom SW, Diehl JA, Rui H, Koumenis C, Fuchs SY. J Clin Invest. 2021 May 17;131(10):e144225. doi: 10.1172/JCI144225. PMID: 33998600
Could Protons Promote Tumor Control by Avoiding Lymphopenia? Deutsch E, Cengel KA, Galluzzi L, Levy A. J Thorac Oncol. 2021 Jun;16(6):e39-e41. doi: 10.1016/j.jtho.2021.01.1614. PMID: 34034888
Determination of the distribution of drug concentration and tissue optical properties for ALA-mediated anal photodynamic therapy. Ong YH, Li AC, Busch TM, Zhu TC. Proc SPIE Int Soc Opt Eng. 2021 Mar;11628:1162806. doi: 10.1117/12.2581824. Epub 2021 Mar 8. PMID: 34083860
A Comparison of Two Probes to Determine Rectum Optical Properties. Li AC, Ong YH, Li C, He J, Dimofte A, Busch TM, Wilson BC, Weersink R, Zhu TC. Proc SPIE Int Soc Opt Eng. 2021 Mar;11628:1162808. doi: 10.1117/12.2582395. Epub 2021 Mar 12. PMID: 34083859
Cherenkov imaging for Total Skin Electron Therapy - an evaluation of dose uniformity. Zhu TC, Ong Y, Sun H, Zhong W, Miao T, Dimofte A, Bruza P, Maity A, Plastaras JP, Paydar I, Dong L, Pogue BW. Proc SPIE Int Soc Opt Eng. 2021 Mar;11628:116280R. doi: 10.1117/12.2583939. Epub 2021 Mar 30. PMID: 34083857

Yang F, He Z, Duan H, Zhang D, Li J, Yang H, Dorsey JF, Zou W, Ali Nabavizadeh S, Bagley SJ, Abdullah K, Brem S, Zhang L, Xu X, Byrne KT, Vonderheide RH, Gong Y, Fan Y. Nat Commun. 2021 Jun 8;12(1):3424. doi: 10.1038/s41467-021-23832-3. PMID: 34103524

NIR Fluorescent Imaging and Photodynamic Therapy with a Novel Theranostic Phospholipid Probe for Triple-Negative Breast Cancer Cells. Rubtsova NI, Hart MC, Arroyo AD, Osharovich SA, Liebov BK, Miller J, Yuan M, Cochran JM, Chong S, Yodh AG, Busch TM, Delikatny EJ, Anikeeva N, Popov AV. Bioconjug Chem. 2021 Jun 17. doi: 10.1021/acs.bioconjchem.1c00295. PMID: 34139845

Palliative Radiotherapy for Diffuse Large B-cell Lymphoma. Wright CM, Koroulakis AI, Baron JA, Chong EA, Tseng YD, Kurtz G, LaRiviere M, Venigalla S, Jones JA, Maity A, Mohindra P, Plastaras JP, Paydar I. Clin Lymphoma Myeloma Leuk. 2021 May 19:S2152-2650(21)00194-4. doi: 10.1016/j.clml.2021.05.007. PMID: 34127417 Review.

Phase II Trial of Flaxseed to Prevent Acute Complications After Chemoradiation for Lung Cancer. Lim TL, Pietrofesa RA, Arguiri E, Koumenis C, Feigenberg S, Simone CB, Rengan R, Cengel K, Levin WP, Christofidou-Solomidou M, Berman AT. J Altern Complement Med. 2021 Jun 23. doi: 10.1089/acm.2020.0542. Online ahead of print. PMID: 34161146

Report of AAPM Task Group 219 on independent calculation-based dose/MU verification for IMRT. Zhu TC, Stathakis S, Clark JR, Feng W, Georg D, Holmes SM, Kry SF, Ma CC, Miften M, Mihailidis D, Moran JM, Papanikolaou N, Poppe B, Xiao Y. Med Phys. 2021 Jul 2. doi: 10.1002/mp.15069. Online ahead of print. PMID: 34213772

Adjuvant Photodynamic Therapy, Mediated via Topical Versus Systemic Administration of 5-Aminolevulinic Acid for Control of Murine Mammary Tumor after Surgical Resection. Carter S, Miller J, Cramer G, Yuan M, Guzman S, Putt ME, Cengel KA, Freedman GM, Busch TM. Photochem Photobiol. 2021 Jul 5. doi: 10.1111/php.13482. Online ahead of print. PMID: 34224156
Brentuximab vedotin in combination with rituximab, cyclophosphamide, doxorubicin, and prednisone as frontline treatment for patients with CD30-positive B-cell lymphomas. Svoboda J, Bair SM, Landsburg DJ, Dwivedy Nasta S, Nagle SJ, Barta SK, Khan N, Filicko-O'Hara J, Gaballa S, Strelec L, Chong E, Mitnick S, Waite TS, King C, Ballard H, Youngman M, Gerson J, Plastaras JP, Maity A, Bogusz AM, Hung SS, Nakamura H, Nejati R, Steidl C, Lim M, Ruella M, Schuster SJ. Haematologica. 2021 Jun 1;106(6):1705-1713. doi: 10.3324/haematol.2019.238675. PMID: 32414850
Reduced eIF4E function impairs B-cell leukemia without altering normal B-lymphocyte function. Chiu H, Buono R, Jackson LV, Herzog LO, Mallya S, Conn CS, Ruggero D, Fruman DA. iScience. 2021 Jun 17;24(7):102748. doi: 10.1016/j.isci.2021.102748. eCollection 2021 Jul 23. PMID: 34278258
Low-Dose Radiotherapy Versus Moderate-Dose Radiotherapy for the Treatment of Indolent Orbital Adnexal Lymphomas. Baron J, Wright CM, Lee DY, Carpenter M, Manjunath SH, Briceño CA, Chong E, Maity A, Plastaras JP, Paydar I. Front Oncol. 2021 Jul 5;11:716002. doi: 10.3389/fonc.2021.716002. eCollection 2021. PMID: 34290991
Re: "A Computer Modeling Study of Water Radiolysis at High Dose Rates. Relevance to FLASH Radiotherapy." Ahmed Alanazi, Jintana Meesungnoem and Jean-Paul Gerin. Radiat Res 2021; 195:149-62. Koch CJ. Radiat Res. 2021 Jul 14. doi: 10.1667/RADE-21-00124.1. PMID: 34260729
FLASH proton radiotherapy spares normal epithelial and mesenchymal tissues while preserving sarcoma response. Velalopoulou A, Karagounis IV, Cramer GM, Kim MM, Skoufos G, Goia D, Hagan S, Verginadis II, Shoniyozov K, Chiango J, Cerullo M, Varner K, Yao L, Qin L, Hatzigeorgiou AG, Minn AJ, Putt M, Lanza M, Assenmacher CA, Radaelli E, Huck J, Diffenderfer E, Dong L, Metz J, Koumenis C, Cengel KA, Maity A, Busch TM. Cancer Res. 2021 Jul 28:canres.1500.2021. doi: 10.1158/0008-5472.CAN-21-1500. PMID: 34321243
Thymic stromal lymphopoietin induces adipose loss through sebum hypersecretion. Choa R, Tohyama J, Wada S, Meng H, Hu J, Okumura M, May RM, Robertson TF, Pai RL, Nace A, Hopkins C, Jacobsen EA, Haldar M, FitzGerald GA, Behrens EM, Minn AJ, Seale P, Cotsarelis G, Kim B, Seykora JT, Li M, Arany Z, Kambayashi T. Science. 2021 Jul 30;373(6554):eabd2893. doi: 10.1126/science.abd2893. PMID: 34326208
Commentary: "Zooming in" on Glioblastoma: Understanding Tumor Heterogeneity and Its Clinical Implications in the Era of Single-Cell Ribonucleic Acid Sequencing. Lucas A, Eberwine JH, Bagley SJ, Fan Y, Nasrallah M, Brem S. Neurosurgery. 2021 Jul 28:nyab280. doi: 10.1093/neuros/nyab280. Online ahead of print. PMID: 34318887
Plasminogen regulates fracture repair by promoting the functions of periosteal mesenchymal progenitors. Wang L, Yao L, Duan H, Yang F, Lin M, Zhang R, He Z, Ahn J, Fan Y, Qin L, Gong Y. J Bone Miner Res. 2021 Aug 11. doi: 10.1002/jbmr.4423. PMID: 34378815
Comparison of FLASH Proton Entrance and the Spread-Out Bragg Peak Dose Regions in the Sparing of Mouse Intestinal Crypts and in a Pancreatic Tumor Model. Kim MM, Verginadis II, Goia D, Haertter A, Shoniyozov K, Zou W, Maity A, Busch TM, Metz JM, Cengel KA, Dong L, Koumenis C, Diffenderfer ES. Cancers (Basel). 2021 Aug 23;13(16):4244. doi: 10.3390/cancers13164244. PMID: 34439398
The immunostimulatory RNA RN7SL1 enables CAR-T cells to enhance autonomous and endogenous immune function. Johnson LR, Lee DY, Eacret JS, Ye D, June CH, Minn AJ. Cell. 2021 Aug 26:S0092-8674(21)00946-6. doi: 10.1016/j.cell.2021.08.004. PMID: 34464586
Cell plasticity, senescence, and quiescence in cancer stem cells: Biological and therapeutic implications. Paul R, Dorsey JF, Fan Y. Pharmacol Ther. 2021 Sep 1:107985. doi: 10.1016/j.pharmthera.2021.107985. PMID: 34480963 Review.
Friedberg JS, Simone CB 2nd, Culligan MJ, Putt ME, Barsky AR, Katz S, Cengel KA. Posterior Intercostal Lymph Nodes Double Recurrence and Death Risk in Malignant Pleural Mesothelioma. Ann Thorac Surg. 2019 Oct 18. pii: S0003-4975(19)31588-7. doi: 10.1016/j.athoracsur.2019.07.097. PMID: 31634442
Xie Y, Petroccia H, Maity A, Miao T, Zhu Y, Bruza P, Pogue BW, Plastaras JP, Dong L, Zhu TC. Cherenkov imaging for Total Skin Electron Therapy (TSET). Med Phys. 2019 Oct 30. PMID: 31665544
Louneva N, Maity A, Kennedy AR. Plasma D-Dimer Levels are Elevated in Radiation Oncology Patients. Radiat Res. 2019 Nov PMID: 31675265
Yan L, Luo L, Amirshaghaghi A, Miller J, Meng C, You T, Busch TM, Tsourkas A, Cheng Z. Dextran-Benzoporphyrin Derivative (BPD) Coated Superparamagnetic Iron Oxide Nanoparticle (SPION) Micelles for T<sub>2</sub>-Weighted Magnetic Resonance Imaging and Photodynamic Therapy. Bioconjug Chem. 2019 Nov 8. PMID: 31661959
Ong YH, Dimofte A, Kim MM, Finlay JC, Sheng T, Singhal S, Cengel KA, Yodh AG, Busch TM, Zhu TC. Reactive Oxygen Species Explicit Dosimetry for Photofrin-mediated Pleural Photodynamic Therapy. Photochem Photobiol. 2019 Nov 1 PMID: 31729774
Penjweini R, Kim MM, Ong YH, Zhu TC.1 O 2 determined from the measured PDT dose and 3 O 2 predicts long-term response to Photofrin-mediated PDT. Phys Med Biol. 2019 Nov 21. PMID: 31751964
Makhlin I, Salinas RD, Zhang D, Jacob F, Ming GL, Song H, Saxena D, Dorsey JF, Nasrallah MP, Morrissette JJ, Binder ZA, O'Rourke DM, Desai AS, Brem S, Bagley SJ. Clinical activity of the EGFR tyrosine kinase inhibitor osimertinib in EGFR-mutant glioblastoma. CNS Oncol. 2019 Nov 1;8(3):CNS43. PMID: 31769726
Saxena D, Sheikh S, Kao G, Binder ZA, Alonso-Basanta M, O'Rourke DM, Nasrallah MP, Dorsey JF.
Rapid and ultrasensitive digital PCR (dPCR) profiling of EGFRvIII in tumor cells and tissues. Neurooncol Adv. 2019 May-Dec;1(1):vdz030. PMID: 31807732
Uribe-Herranz M, Rafail S, Beghi S, Gil-de-Gómez L, Verginadis I, Bittinger K, Pustylnikov S, Pierini S, Perales-Linares R, Blair IA, Mesaros CA, Snyder NW, Bushman F, Koumenis C, Facciabene A. Gut microbiota modulate dendritic cell antigen presentation and radiotherapy-induced antitumor immune response. J Clin Invest. 2019 Dec PMID: 31815742
Bhardwaj M, Leli NM, Koumenis C, Amaravadi RK. Regulation of autophagy by canonical and non-canonical ER stress responses. Semin Cancer Biol. 2019 Dec 12. PMID: 31838023
Namoglu EC, Hughes ME, Plastaras JP, Landsburg DJ, Maity A, Nasta SD. Management and outcomes of sinus histiocytosis with massive lymphadenopathy (Rosai Dorfman Disease). Leuk Lymphoma. 2019 Dec 26:1-7. PMID: 31876204
Jacob F, Salinas RD, Zhang DY, Nguyen PTT, Schnoll JG, Wong SZH, Thokala R, Sheikh S, Saxena D, Prokop S, Liu DA, Qian X, Petrov D, Lucas T, Chen HI, Dorsey JF, Christian KM, Binder ZA, Nasrallah M, Brem S, O'Rourke DM, Ming GL, Song H. A Patient-Derived Glioblastoma Organoid Model and Biobank Recapitulates Inter- and Intra-tumoral Heterogeneity. Cell. 2019 Dec 23. pii: S0092-8674(19)31321-2. PMID: 31883794
Diffenderfer ES, Verginadis II, Kim MM, Shoniyozov K, Velalopoulou A, Goia D, Putt M, Hagan S, Avery S, Teo K, Zou W, Lin A, Swisher-McClure S, Koch C, Kennedy AR, Minn A, Maity A, Busch TM, Dong L, Koumenis C, Metz J, Cengel KA. Design, Implementation, and in Vivo Validation of a Novel Proton FLASH Radiation Therapy System. Int J Radiat Oncol Biol Phys. 2020 Feb 1;106(2):440-448. PMID: 31928642
Frick MA, Feigenberg SJ, Jean-Baptiste SR, Aguarin LA, Mendes A, Chinniah C, Swisher-McClure S, Berman A, Levin W, Cengel K, Hahn SM, Dorsey JF, Simone CB, Kao GD. Circulating tumor cells are associated with recurrent disease in patients with early stage non-small cell lung cancer treated with stereotactic body radiation therapy. Clin Cancer Res. 2020 Jan 22. PMID: 31969332
Zhao H, Xie L, Clemens JL, Zong L, McLane MW, Arif H, Feller MC, Jia B, Zhu Y, Facciabene A, Ozen M, Lei J, Burd I. Mouse Bone Marrow-Derived Mesenchymal Stem Cells Alleviate Perinatal Brain Injury Via a CD8 + T Cell Mechanism in a Model of Intrauterine Inflammation. Reprod Sci. 2020 Jan 29. PMID: 31997258
Cramer GM, Sandell Meo J, Finlay JC, Zhu TC, Busch TM, Cengel KA. In vivo Spectroscopic Evaluation of the Intraperitoneal Cavity in Canines. Photochem Photobiol. 2020 Feb 14. PMID: 32060914
Kim MM, Zhu TC, Ong YH, Finlay JC, Dimofte A, Singhal S, Glatstein E, Cengel KA. Infrared navigation system for light dosimetry during pleural photodynamic therapy. Phys Med Biol. 2020 Feb 13. PMID: 32053799
Dupre PJ, Ong YH, Friedberg J, Singhal S, Carter S, Simone CB 2nd, Finlay JC, Zhu TC, Cengel KA, Busch TM. Light Fluence Rate and Tissue Oxygenation (S t O 2 ) Distributions Within the Thoracic Cavity of Patients Receiving Intraoperative
Photodynamic Therapy for Malignant Pleural Mesothelioma. Photochem Photobiol. 2020 Feb 12. PMID: 32048732
Huang M, Zhang D, Wu JY, Xing K, Yeo E, Li C, Zhang L, Holland E, Yao L, Qin L, Binder ZA, O'Rourke DM, Brem S, Koumenis C, Gong Y, Fan Y. Wnt-mediated endothelial transformation into mesenchymal stem cell-like cells induces chemoresistance in glioblastoma. Sci Transl Med. 2020 Feb 26;12(532). PMID: 32102932
Cramer G, Lewis R, Gymarty A, Hagan S, Mickler M, Evans S, Punekar SR, Shuman L, Simone CB 2nd, Hahn SM, Busch TM, Fraker D, Cengel KA. Preclinical Evaluation of Cetuximab and Benzoporphyrin Derivative-Mediated Intraperitoneal Photodynamic Therapy in a Canine Model. Photochem Photobiol. 2020 Mar 2. PMID: 32119123
Mohiuddin JJ, Chu B, Facciabene A, Poirier K, Wang X, Doucette A, Zheng C, Xu W, Anstadt EJ, Amaravadi RK, Karakousis GC, Mitchell TC, Huang AC, Shabason JE, Lin A, Swisher-McClure S, Maity A, Schuchter LM, Lukens JN. Association of antibiotic exposure with survival and toxicity in patients with melanoma receiving immunotherapy. J Natl Cancer Inst. 2020 Apr 15. pii: djaa057. doi: 10.1093/jnci/djaa057. PMID: 32294209
Busch TM, Cengel KA, Zhu TC. In Memoriam Jarod C. Finlay, PhD. Photochem Photobiol. 2020 Mar;96(2):218. PMID: 32249478
Luna JM, Chao HH, Shinohara RT, Ungar LH, Cengel KA, Pryma DA, Chinniah C, Berman AT, Katz SI, Kontos D, Simone CB 2nd, Diffenderfer ES. Machine learning highlights the deficiency of conventional dosimetric constraints for prevention of high-grade radiation esophagitis in non-small cell lung cancer treated with chemoradiation. Clin Transl Radiat Oncol. 2020 Mar 24;22:69-75. doi: 10.1016/j.ctro.2020.0007. PMID: 32274426
Chao HH, Karagounis IV, Thomas C, François NB, Facciabene A, Koumenis C, Maity A. Combination of CHEK1/2 inhibition and ionizing radiation results in abscopal tumor response through increased micronuclei formation. Oncogene. 2020 Apr 25. PMID: 32335582.
Barsky AR, Kim MM, Williams GR, Lally BE, Ingram WS, Cengel KA, Feigenberg SJ. Proton-beam therapy: at the heart of cardiac dose-sparing in mediastinal radiotherapy for thymic carcinoma. J Thorac Oncol. 2020 Apr 27. PMID: 32353600
Luo LY, O'Hara MH, Mitchell TC, Vonderheide RH, Wherry EJ, Minn AJ, Maity A. Combining Radiation with Immunotherapy: The University of Pennsylvania Experience. Semin Radiat Oncol. 2020 Apr;30(2):173-180. PMID: 32381296
Jain V, Niezink AGH, Frick M, Doucette A, Mendes A, Simone CB 2nd, Langendijk JA, Wijsman R, Feigenberg SJ, Levin W, Cengel KA, van der Schaaf A, Berman AT. Updating Photon-based Normal Tissue Complication Probability Models for Pneumonitis in Lung Cancer Patients Treated with Proton Beam Therapy. Pract Radiat Oncol. 2020 May 13. PMID: 32416270
Carabe-Fernandez A, Karagounis I, Huynh K, Bertolet A, François N, Kim MM, Maity A, Abel E, Dale RG. Radiobiological effectiveness difference of proton arc beams versus conventional proton and photon beams. Phys Med Biol. 2020 May 15. PMID: 32413889
Svoboda J, Bair SM, Landsburg DJ, Nasta SD, Nagle SJ, Barta SK, Khan N, Filicko-O'Hara J, Gaballa S, Strelec L, Chong E, Mitnick S, Waite TS, King C, Ballard H, Youngman M, Gerson J, Plastaras JP, Maity A, Bogusz AM, Hung SS, Nakamura H, Nejati R, Steidl C, Lim M, Ruella M, Schuster SJ. Brentuximab vedotin in combination with rituximab, cyclophosphamide, doxorubicin, and prednisone as frontline treatment for patients with CD30-positive B-cell lymphomas. Haematologica. 2020 May 15. PMID: 32414850
Wright CM, LaRiviere MJ, Baron JA, Uche C, Xiao Y, Arscott WT, Anstadt EJ, Barsky AR, Miller D, LaRose MI, Landsburg DJ, Svoboda J, Nasta SD, Gerson JN, Barta SK, Chong EA, Schuster SJ, Paydar I, Maity A, Plastaras JP. Bridging Radiation Therapy Prior to Commercial Chimeric Antigen Receptor T-Cell Therapy for relapsed/refractory aggressive B-cell lymphoma. Int J Radiat Oncol Biol Phys. 2020 May 21. PMID: 32446950
Cramer GM, Moon EK, Cengel KA, Busch TM. Photodynamic Therapy and Immune Checkpoint Blockade. Photochem Photobiol. 2020 Jun 23. PMID: 32573787
Ong YH, Miller J, Yuan M, Chandra M, El Khatib M, Vinogradov SA, Putt ME, Zhu TC, Cengel KA, Yodh AG, Busch TM. Blood Flow Measurements Enable Optimization of Light Delivery for Personalized Photodynamic Therapy. Cancers (Basel). 2020 Jun 15;12(6). PMID: 32549354
Miao T, Petroccia H, Xie Y, Jermyn M, Perroni-Scharf M, Kapoor N, Mahoney JM, Zhu TC, Bruza P, Williams BB, Gladstone DJ, Pogue BW. Computer animation body surface analysis of total skin electron radiation therapy dose homogeneity via Cherenkov imaging. J Med Imaging (Bellingham). 2020 May;7(3):034002. PMID: 32509916
Barsky AR, Ahern CA, Venigalla S, Verma V, Anstadt EJ, Wright CM, Ludmir EB, Berlind CG, Lindsay WD, Grover S, Cengel KA, Simone CB 2nd. Gender-based Disparities in Receipt of Care and Survival in Malignant Pleural Mesothelioma. Clin Lung Cancer. 2020 May 23. pii: S1525-7304(20)30161-3. PMID: 32611504
Beeson KW, Parilov E, Potasek M, Kim MM, Zhu TC. Validation of combined Monte Carlo and photokinetic simulations for the outcome correlation analysis of benzoporphyrin derivative-mediated photodynamic therapy on mice. J Biomed Opt. 2019 Mar;24(3):1-9. PMID: 30873764
Duan H, He Z, Lin M, Wang Y, Yang F, Mitteer RA, Kim HJ, Yeo E, Han H, Qin L, Fan Y, Gong Y. Plasminogen regulates mesenchymal stem cell-mediated tissue repair after ischemia through Cyr61 activation. JCI Insight. 2020 Aug 6;5(15):131376. doi: 10.1172/jci.insight.131376. PMID: 32759492
Patel A, Roshkovan L, McNulty S, Alley E, Torigian DA, Nachiappan AC, Galperin-Aizenberg M, Barbosa EM Jr, DiRienzi J, Berger I, Khalid U, Haas AR, Singhal S, Wileyto EP, Cengel KA, Katz SI. Delayed-Phase Enhancement for Evaluation of Malignant Pleural Mesothelioma on Computed Tomography: A Prospective Cohort Study. Clin Lung Cancer. 2020 Jun 14:S1525-7304(20)30184-4. doi: 10.1016/j.cllc.2020.06.002. Online ahead of print. PMID: 32693945
Russell KL, Gorgulho CM, Allen A, Vakaki M, Wang Y, Facciabene A, Lee D, Roy P, Buchser WJ, Appleman LJ, Maranchie J, Storkus WJ, Lotze MT. Inhibiting Autophagy in Renal Cell Cancer and the Associated Tumor Endothelium. Cancer J. 2019 May/Jun;25(3):165-177. doi: 10.1097/PPO.0000000000000374. Review. PMID: 31135523
Evaluation of Light Fluence Distribution Using an IR Navigation System for HPPH-mediated Pleural Photodynamic Therapy (pPDT). Zhu TC, Ong Y, Kim MM, Liang X, Finlay JC, Dimofte A, Simone Nd CB, Friedberg JS, Busch TM, Glatstein E, Cengel KA. Photochem Photobiol. 2019 Sep 25. doi: 10.1111/php.13166. PMID:31556122
Acute neurologic toxicity of palliative radiotherapy for brain metastases in patients receiving immune checkpoint blockade. Arscott WT, Zhu S, Plastaras JP, Maity A, Alonso-Basanta M, Jones J. Neurooncol Pract. 2019 Jul;6(4):297-304. doi: 10.1093/nop/npy042. Epub 2018 Oct 25. PMID:31386046
Opposing Functions of Interferon Coordinate Adaptive and Innate Immune Responses to Cancer Immune Checkpoint Blockade. Benci JL, Johnson LR, Choa R, Xu Y, Qiu J, Zhou Z, Xu B, Ye D, Nathanson KL, June CH, Wherry EJ, Zhang NR, Ishwaran H, Hellmann MD, Wolchok JD, Kambayashi T, Minn AJ. Cell. 2019 Aug 8;178(4):933-948.e14. doi: 10.1016/j.cell.2019.07.019. PMID:31398344
Clinical Outcomes of the HIV Protease Inhibitor Nelfinavir With Concurrent Chemoradiotherapy for Unresectable Stage IIIA/IIIB Non-Small Cell Lung Cancer: A Phase 1/2 Trial. Rengan R, Mick R, Pryma DA, Lin LL, Christodouleas J, Plastaras JP, Simone CB 2nd, Gupta AK, Evans TL, Stevenson JP, Langer CJ, Kucharczuk J, Friedberg J, Lam S, Patsch D, Hahn SM, Maity A. JAMA Oncol. 2019 Aug 22. doi: 10.1001/jamaoncol.2019.2095. PMID:31436839
Vascular Detransformation for Cancer Therapy. Fan Y. Trends Cancer. 2019 Aug;5(8):460-463. doi: 10.1016/j.trecan.2019.05.007. Epub 2019 Jun 14. PMID:31421902
Phenotypic and functional analysis of malignant mesothelioma tumor-infiltrating lymphocytes. Klampatsa A, O'Brien SM, Thompson JC, Rao AS, Stadanlick JE, Martinez MC, Liousia M, Cantu E, Cengel K, Moon EK, Singhal S, Eruslanov EB, Albelda SM. Oncoimmunology. 2019 Jul 13;8(9):e1638211. doi: 10.1080/2162402X.2019.1638211. eCollection 2019. PMID:31428531
Re: Differential impact of FLASH versus conventional dose rate irradiation: Spitz et al. Koch CJ. Radiother Oncol. 2019 Oct;139:62-63. doi: 10.1016/j.radonc.2019.07.004. Epub 2019 Aug 17. PMID:31431380
Early Detection of Recurrence in Patients With Locally Advanced Non-Small-Cell Lung Cancer via Circulating Tumor Cell Analysis.Chinniah C, Aguarin L, Cheng P, Decesaris C, Cutillo A, Berman AT, Frick M, Doucette A, Cengel KA, Levin W, Hahn S, Dorsey JF, Simone CB 2nd, Kao GD. Clin Lung Cancer. 2019 Sep;20(5):384-390.e2. doi: 10.1016/j.cllc.2019.04.011. Epub 2019 May 4. PMID:31221522
Intratumoral Hypoxia Reduces IFN-γ-Mediated Immunity and MHC Class I Induction in a Preclinical Tumor Model. Murthy A, Gerber SA, Koch CJ, Lord EM. Immunohorizons. 2019 Apr 29;3(4):149-160. doi: 10.4049/immunohorizons.1900017. PMID:31356176
Reactive oxygen species explicit dosimetry to predict local tumor control for Photofrin-mediated photodynamic therapy. Sheng T, Ong YH, Busch TM, Zhu TC. Proc SPIE Int Soc Opt Eng. 2019 Feb;10860. pii: 108600V. doi: 10.1117/12.2508803. Epub 2019 Mar 12. PMID:31327886
Reactive oxygen species explicit dosimetry to predict tumor growth for BPD-mediated vascular photodynamic therapy. Sheng T, Ong YH, Busch TM, Zhu TC. Proc SPIE Int Soc Opt Eng. 2019 Feb;10861. pii: 108610A. doi: 10.1117/12.2514657. Epub 2019 Mar 7. PMID:31080306
Cooperation between Constitutive and Inducible Chemokines Enables T Cell Engraftment and Immune Attack in Solid Tumors. Dangaj D, Bruand M, Grimm AJ, Ronet C, Barras D, Duttagupta PA, Lanitis E, Duraiswamy J, Tanyi JL, Benencia F, Conejo-Garcia J, Ramay HR, Montone KT, Powell DJ Jr, Gimotty PA, Facciabene A, Jackson DG, Weber JS, Rodig SJ, Hodi SF, Kandalaft LE, Irving M, Zhang L, Foukas P, Rusakiewicz S, Delorenzi M, Coukos G. Cancer Cell. 2019 Jun 10;35(6):885-900.e10. doi: 10.1016/j.ccell.2019.05.004. PMID:31185212
ATF4 couples MYC-dependent translational activity to bioenergetic demands during tumour progression. Tameire F, Verginadis II, Leli NM, Polte C, Conn CS, Ojha R, Salinas CS, Chinga F, Monroy AM, Fu W, Wang P, Kossenkov A, Ye J, Amaravadi RK, Ignatova Z, Fuchs SY, Diehl JA, Ruggero D, Koumenis C. Nat Cell Biol. 2019 Aug;21(8):1052. doi: 10.1038/s41556-019-0370-x. PMID:31316187
Predicting radiation pneumonitis in locally advanced stage II-III non-small cell lung cancer using machine learning. Luna JM, Chao HH, Diffenderfer ES, Valdes G, Chinniah C, Ma G, Cengel KA, Solberg TD, Berman AT, Simone CB 2nd. Radiother Oncol. 2019 Apr;133:106-112. doi: 10.1016/j.radonc.2019.01.003. Epub 2019 Jan 23. PMID:30935565
Important Technical Considerations for Implementing the ASTRO/ASCO/AUA Prostate Cancer Hypofractionated Radiation Guideline. LaRiviere MJ, Zhu TC, Christodouleas JP. Pract Radiat Oncol. 2019 Jul - Aug;9(4):197-199. doi: 10.1016/j.prro.2019.02.017. Epub 2019 Mar 2. No abstract available. PMID:30836189
Validation of combined Monte Carlo and photokinetic simulations for the outcome correlation analysis of benzoporphyrin derivative-mediated photodynamic therapy on mice. Beeson KW, Parilov E, Potasek M, Kim MM, Zhu TC. J Biomed Opt. 2019 Mar;24(3):1-9. doi: 10.1117/1.JBO.24.3.035006. PMID:30873764
The PKR-Like Endoplasmic Reticulum Kinase Promotes the Dissemination of Myc-Induced Leukemic Cells. Gui J, Katlinski KV, Koumenis C, Diehl JA, Fuchs SY. Mol Cancer Res. 2019 Jul;17(7):1450-1458. doi: 10.1158/1541-7786.MCR-19-0002. Epub 2019 Mar 22. PMID:30902831
Genomic characterization of genes encoding histone acetylation modulator proteins identifies therapeutic targets for cancer treatment. Hu Z, Zhou J, Jiang J, Yuan J, Zhang Y, Wei X, Loo N, Wang Y, Pan Y, Zhang T, Zhong X, Long M, Montone KT, Tanyi JL, Fan Y, Wang TL, Shih IM, Hu X, Zhang L. Nat Commun. 2019 Feb 13;10(1):733. doi: 10.1038/s41467-019-08554-x. PMID:30760718
Chlorin e6-Coated Superparamagnetic Iron Oxide Nanoparticle (SPION) Nanoclusters as a Theranostic Agent for Dual-Mode Imaging and Photodynamic Therapy. Amirshaghaghi A, Yan L, Miller J, Daniel Y, Stein JM, Busch TM, Cheng Z, Tsourkas A. Sci Rep. 2019 Feb 22;9(1):2613. doi: 10.1038/s41598-019-39036-1. PMID:30796251
5-aminolevulinic acid photodynamic therapy for the treatment of high-grade gliomas. Mahmoudi K, Garvey KL, Bouras A, Cramer G, Stepp H, Jesu Raj JG, Bozec D, Busch TM, Hadjipanayis CG. J Neurooncol. 2019 Feb;141(3):595-607. doi: 10.1007/s11060-019-03103-4. Epub 2019 Jan 18. Review. PMID:30659522
Precision Cardio-Oncology. Dreyfuss AD, Bravo PE, Koumenis C, Ky B. J Nucl Med. 2019 Apr;60(4):443-450. doi: 10.2967/jnumed.118.220137. Epub 2019 Jan 17. PMID:30655328
An Interferon-Driven Oxysterol-Based Defense against Tumor-Derived Extracellular Vesicles. Ortiz A, Gui J, Zahedi F, Yu P, Cho C, Bhattacharya S, Carbone CJ, Yu Q, Katlinski KV, Katlinskaya YV, Handa S, Haas V, Volk SW, Brice AK, Wals K, Matheson NJ, Antrobus R, Ludwig S, Whiteside TL, Sander C, Tarhini AA, Kirkwood JM, Lehner PJ, Guo W, Rui H, Minn AJ, Koumenis C, Diehl JA, Fuchs SY. Cancer Cell. 2019 Jan 14;35(1):33-45.e6. doi: 10.1016/j.ccell.2018.12.001. PMID:30645975
An Integrated Stress Response Agent that Modulates DR5-Dependent TRAIL Synergy Reduces Patient-Derived Glioma Stem Cell Viability. Sheikh S, Saxena D, Tian X, Amirshaghaghi A, Tsourkas A, Brem S, Dorsey JF. Mol Cancer Res. 2019 May;17(5):1102-1114. doi: 10.1158/1541-7786.MCR-18-0276. Epub 2019 Jan 14. PMID:30642878
LGM2605 Reduces Space Radiation-Induced NLRP3 Inflammasome Activation and Damage in In Vitro Lung Vascular Networks. Chatterjee S, Pietrofesa RA, Park K, Tao JQ, Carabe-Fernandez A, Berman AT, Koumenis C, Sielecki T, Christofidou-Solomidou M. Int J Mol Sci. 2019 Jan 5;20(1). pii: E176. doi: 10.3390/ijms20010176. PMID:30621290
ER Translocation of the MAPK Pathway Drives Therapy Resistance in BRAF-Mutant Melanoma. Ojha R, Leli NM, Onorati A, Piao S, Verginadis II, Tameire F, Rebecca VW, Chude CI, Murugan S, Fennelly C, Noguera-Ortega E, Chu CT, Liu S, Xu X, Krepler C, Xiao M, Xu W, Wei Z, Frederick DT, Boland G, Mitchell TC, Karakousis GC, Schuchter LM, Flaherty KT, Zhang G, Herlyn M, Koumenis C, Amaravadi RK. Cancer Discov. 2019 Mar;9(3):396-415. doi: 10.1158/2159-8290.CD-18-0348. Epub 2018 Dec 18. Erratum in: Cancer Discov. 2019 Jul;9(7):981. PMID:30563872
Modeling Epidermal Growth Factor Inhibitor-mediated Enhancement of Photodynamic Therapy Efficacy Using 3D Mesothelioma Cell Culture. Cramer G, Shin M, Hagan S, Katz SI, Simone CB 2nd, Busch TM, Cengel KA. Photochem Photobiol. 2019 Jan;95(1):397-405. doi: 10.1111/php.13067. Epub 2019 Jan 7. PMID:30499112
A Novel Prospective Study Assessing the Combination of Photodynamic Therapy and Proton Radiation Therapy: Safety and Outcomes When Treating Malignant Pleural Mesothelioma. Rice SR, Li YR, Busch TM, Kim MM, McNulty S, Dimofte A, Zhu TC, Cengel KA, Simone CB 2nd. Photochem Photobiol. 2019 Jan;95(1):411-418. doi: 10.1111/php.13065. Epub 2018 Dec 28. PMID:30485442
Early Changes in Cardiovascular Biomarkers with Contemporary Thoracic Radiation Therapy for Breast Cancer, Lung Cancer, and Lymphoma. Demissei BG, Freedman G, Feigenberg SJ, Plastaras JP, Maity A, Smith AM, McDonald C, Sheline K, Simone CB 2nd, Lin LL, Carver JR, Liu P, Zhang L, Bekelman JE, Ky B. Int J Radiat Oncol Biol Phys. 2019 Mar 15;103(4):851-860. doi: 10.1016/j.ijrobp.2018.11.013. Epub 2018 Nov 14. PMID:30445173
YAP1 enhances NF-κB-dependent and independent effects on clock-mediated unfolded protein responses and autophagy in sarcoma.Rivera-Reyes A, Ye S, E Marino G, Egolf S, E Ciotti G, Chor S, Liu Y, Posimo JM, Park PMC, Pak K, Babichev Y, Sostre-Colón J, Tameire F, Leli NM, Koumenis C, C Brady D, Mancuso A, Weber K, Gladdy R, Qi J, Eisinger-Mathason TSK. Cell Death Dis. 2018 Oct 31;9(11):1108. doi: 10.1038/s41419-018-1142-4. PMID:30382078
Luminol Chemiluminescence Reports Photodynamic Therapy-Generated Neutrophil Activity In Vivo and Serves as a Biomarker of Therapeutic Efficacy. Davis RW 4th, Snyder E, Miller J, Carter S, Houser C, Klampatsa A, Albelda SM, Cengel KA, Busch TM. Photochem Photobiol. 2019 Jan;95(1):430-438. doi: 10.1111/php.13040. Epub 2018 Nov 26. PMID:30357853
Inhibiting Autophagy in Renal Cell Cancer and the Associated Tumor Endothelium. Russell KL, Gorgulho CM, Allen A, Vakaki M, Wang Y, Facciabene A, Lee D, Roy P, Buchser WJ, Appleman LJ, Maranchie J, Storkus WJ, Lotze MT. Cancer J. 2019 May/Jun;25(3):165-177. doi: 10.1097/PPO.0000000000000374. PMID:31135523
Toward a comprehensive view of cancer immune responsiveness: a synopsis from the SITC workshop. Bedognetti D, Ceccarelli M, Galluzzi L, Lu R, Palucka K, Samayoa J, Spranger S, Warren S, Wong KK, Ziv E, Chowell D, Coussens LM, De Carvalho DD, DeNardo DG, Galon J, Kaufman HL, Kirchhoff T, Lotze MT, Luke JJ, Minn AJ, Politi K, Shultz LD, Simon R, Thórsson V, Weidhaas JB, Ascierto ML, Ascierto PA, Barnes JM, Barsan V, Bommareddy PK, Bot A, Church SE, Ciliberto G, De Maria A, Draganov D, Ho WS, McGee HM, Monette A, Murphy JF, Nisticò P, Park W, Patel M, Quigley M, Radvanyi L, Raftopoulos H, Rudqvist NP, Snyder A, Sweis RF, Valpione S, Zappasodi R, Butterfield LH, Disis ML, Fox BA, Cesano A, Marincola FM; Society for Immunotherapy of Cancer (SITC) Cancer Immune Responsiveness Task Force and Working Groups. J Immunother Cancer. 2019 May 22;7(1):131. doi: 10.1186/s40425-019-0602-4. Review. Erratum in: J Immunother Cancer. 2019 Jul 4;7(1):167. PMID:31113486
A prospective clinical trial of proton therapy for chordoma and chondrosarcoma: Feasibility assessment. Baumann BC, Lustig RA, Mazzoni S, Grady SM, O'Malley BW, Lee JYK, Newman JG, Schuster JM, Both S, Lin A, Dorsey JF, Alonso-Basanta M. J Surg Oncol. 2019 Aug;120(2):200-205. doi: 10.1002/jso.25502. Epub 2019 May 20. PMID:31111502
Lymphangitic carcinomatosis: A common radiographic manifestation of local failure following extended pleurectomy/decortication in patients with malignant pleural mesothelioma. Berger I, Cengel KA, Simone CB 2nd, Alley EW, Roshkovan L, Haas AR, Patel AM, Khalid U, Culligan MJ, McNulty S, Singhal S, Friedberg JS, Katz SI. Lung Cancer. 2019 Jun;132:94-98. doi: 10.1016/j.lungcan.2019.03.026. Epub 2019 Mar 26. PMID:31097101
Design and commissioning of an image-guided small animal radiation platform and quality assurance protocol for integrated proton and x-ray radiobiology research. Kim MM, Irmen P, Shoniyozov K, Verginadis II, Cengel KA, Koumenis C, Metz JM, Dong L, Diffenderfer ES. Phys Med Biol. 2019 Jul 4;64(13):135013. doi: 10.1088/1361-6560/ab20d9. PMID:31075786
5-aminolevulinic acid photodynamic therapy for the treatment of high-grade gliomas. Mahmoudi K, Garvey KL, Bouras A, Cramer G, Stepp H, Jesu Raj JG, Bozec D, Busch TM, Hadjipanayis CG. J Neurooncol. 2019 Feb;141(3):595-607. doi: 10.1007/s11060-019-03103-4. Epub 2019 Jan 18. Review. PMID:3065952
Assessing the Validity of Clinician Advice That Patients Avoid Use of Topical Agents Before Daily Radiotherapy Treatments. Baumann BC, Verginadis II, Zeng C, Bell B, Koduri S, Vachani C, MacArthur KM, Solberg TD, Koumenis C, Metz JM. JAMA Oncol. 2018 Oct 18. doi: 10.1001/jamaoncol.2018.4292. PMID:30347008
Five-year Long-term Outcomes of Stereotactic Body Radiation Therapy for Operable Versus Medically Inoperable Stage I Non-small-cell Lung Cancer: Analysis by Operability, Fractionation Regimen, Tumor Size, and Tumor Location. Schonewolf CA, Heskel M, Doucette A, Singhal S, Frick MA, Xanthopoulos EP, Corradetti MN, Friedberg JS, Pechet TT, Christodouleas JP, Levin W, Berman A, Cengel KA, Verma V, Hahn SM, Kucharczuk JC, Rengan R, Simone CB 2nd. Clin Lung Cancer. 2018 Sep 20. pii: S1525-7304(18)30237-7. doi: 10.1016/j.cllc.2018.09.004. PMID:30337269
Interleukin-6 signaling blockade exacerbates acute and late injury from focal intestinal irradiation. Bell BI, Koduri S, Salinas CS, Monslow J, Puré E, Ben-Josef E, Koumenis C, Verginadis II. Int J Radiat Oncol Biol Phys. 2018 Oct 15. pii: S0360-3016(18)33858-6. doi: 10.1016/j.ijrobp.2018.10.007. PMID:30336264
Circulating glioma cells exhibit stem cell-like properties. Liu T, Xu H, Huang M, Ma W, Saxena D, Lustig RA, Alonso-Basanta M, Zhang Z, O Rourke DM, Zhang L, Gong Y, Kao GD, Dorsey JF, Fan Y. Cancer Res. 2018 Oct 15. pii: canres.0650.2018. doi: 10.1158/0008-5472.CAN-18-0650. PMID:30322863
A phase I trial of pembrolizumab with hypofractionated radiotherapy in patients with metastatic solid tumours. Maity A, Mick R, Huang AC, George SM, Farwell MD, Lukens JN, Berman AT, Mitchell TC, Bauml J, Schuchter LM, O'Hara M, Lin LL, Demichele A, Christodouleas JP, Haas NB, Patsch DM, Hahn SM, Minn AJ, Wherry EJ, Vonderheide RH. Br J Cancer. 2018 Oct 15. PMID:30318516
Integrated Analysis of Genetic Ancestry and Genomic Alterations across Cancers. Yuan J, Hu Z, Mahal BA, Zhao SD, Kensler KH, Pi J, Hu X, Zhang Y, Wang Y, Jiang J, Li C, Zhong X, Montone KT, Guan G, Tanyi JL, Fan Y, Xu X, Morgan MA, Long M, Zhang Y, Zhang R, Sood AK, Rebbeck TR, Dang CV, Zhang L. Cancer Cell. 2018 Oct 8;34(4):549-560.e9. doi: 10.1016/j.ccell.2018.08.019. PMID:30300578
Circulating Tumor Cell Assessment in Presumed Early Stage Non-Small Cell Lung Cancer Patients Treated with Stereotactic Body Radiation Therapy: A Prospective Pilot Study. Frick MA, Kao GD, Aguarin L, Chinniah C, Swisher-McClure S, Berman AT, Levin WP, Cengel KA, DeCesaris C, Hahn SM, Dorsey JF, Simone CB 2nd. Int J Radiat Oncol Biol Phys. 2018 Nov 1;102(3):536-542. doi: 10.1016/j.ijrobp.2018.06.041. Epub 2018 Jul 2. PMID:30244877
Adjuvant, neoadjuvant, and definitive radiation therapy for malignant pleural mesothelioma. Cramer G, Simone CB 2nd, Busch TM, Cengel KA. J Thorac Dis. 2018 Aug;10(Suppl 21):S2565-S2573. doi: 10.21037/jtd.2018.07.65. Review. PMID:30206500
RNA-binding protein LIN28B inhibits apoptosis through regulation of the AKT2/FOXO3A/BIM axis in ovarian cancer cells. Lin X, Shen J, Dan Peng, He X, Xu C, Chen X, Tanyi JL, Montone K, Fan Y, Huang Q, Zhang L, Zhong X. Signal Transduct Target Ther. 2018 Aug 31;3:23. doi: 10.1038/s41392-018-0026-5. eCollection 2018. PMID:30174831
PDGF-mediated mesenchymal transformation renders endothelial resistance to anti-VEGF treatment in glioblastoma. Liu T, Ma W, Xu H, Huang M, Zhang D, He Z, Zhang L, Brem S, O'Rourke DM, Gong Y, Mou Y, Zhang Z, Fan Y. Nat Commun. 2018 Aug 27;9(1):3439. doi: 10.1038/s41467-018-05982-z. PMID:30150753
Targeting mitochondria in cancer: current concepts and immunotherapy approaches. Pustylnikov S, Costabile F, Beghi S, Facciabene A. Transl Res. 2018 Jul 31. pii: S1931-5244(18)30114-2. doi: 10.1016/j.trsl.2018.07.013. Review. PMID:30144423
A Clinical Trial of TumorGlow® to Identify Residual Disease during Pleurectomy and Decortication. Predina JD, Newton AD, Corbett C, Xia L, Shin M, Sulfyok LF, Okusanya OT, Cengel KA, Haas A, Litzky L, Kucharczuk JC, Singhal S. Ann Thorac Surg. 2018 Jul 17. pii: S0003-4975(18)30995-0. doi: 10.1016/j.athoracsur.2018.06.015. PMID:30028985
Safety and Feasibility of Integrating Yttrium-90 Radioembolization With Capecitabine-Temozolomide for Grade 2 Liver-Dominant Metastatic Neuroendocrine Tumors. Soulen MC, van Houten D, Teitelbaum UR, Damjanov N, Cengel KA, Metz DC. Pancreas. 2018 Sep;47(8):980-984. doi: 10.1097/MPA.0000000000001115. PMID:30028446
Radiosensitization by the PARP inhibitor olaparib in BRCA1-proficient and deficient high-grade serous ovarian carcinomas. Bi Y, Verginadis II, Dey S, Lin L, Guo L, Zheng Y, Koumenis C. Gynecol Oncol. 2018 Sep;150(3):534-544. doi: 10.1016/j.ygyno.2018.07.002. Epub 2018 Jul 17. PMID:30025822
Pro-tumorigenic AMPK in glioblastoma. Leli NM, Koumenis C. Nat Cell Biol. 2018 Jul;20(7):736-737. doi: 10.1038/s41556-018-0129-9. PMID:29915356
Protoporphyrin IX (PpIX)-Coated Superparamagnetic Iron Oxide Nanoparticle (SPION) Nanoclusters for Magnetic Resonance Imaging and Photodynamic Therapy. Yan L, Amirshaghaghi A, Huang D, Miller J, Stein JM, Busch TM, Cheng Z, Tsourkas A. Adv Funct Mater. 2018 Apr 17;28(16). pii: 1707030. doi: 10.1002/adfm.201707030. Epub 2018 Feb 15. PMID:29910700
A quality assurance program for clinical PDT. Dimofte A, Finlay J, Ong YH, Zhu TC. Proc SPIE Int Soc Opt Eng. 2018 Mar;10476. pii: 104760L. doi: 10.1117/12.2288561. PMID:29861532
Reactive Oxygen Species Explicit Dosimetry (ROSED) of a Type 1 Photosensitizer. Ong YH, Kim MM, Huang Z, Zhu TC. Proc SPIE Int Soc Opt Eng. 2018 Feb;10476. pii: 104760V. doi: 10.1117/12.2291385. PMID:29861531
Acid Suspends the Circadian Clock in Hypoxia through Inhibition of mTOR. Walton ZE, Patel CH, Brooks RC, Yu Y, Ibrahim-Hashim A, Riddle M, Porcu A, Jiang T, Ecker BL, Tameire F, Koumenis C, Weeraratna AT, Welsh DK, Gillies R, Alwine JC, Zhang L, Powell JD, Dang CV. Cell. 2018 Jun 28;174(1):72-87.e32. doi: 10.1016/j.cell.2018.05.009. Epub 2018 May 31. PMID:29861175
Monte Carlo modelling of fluorescence in semi-infinite turbid media. Ong YH, Finlay JC, Zhu TC. Proc SPIE Int Soc Opt Eng. 2018 Jan-Feb;10492. pii: 104920T. doi: 10.1117/12.2290137. Epub 2018 Feb 26. PMID:29853731
Radiotherapy and CD40 Activation Separately Augment Immunity to Checkpoint Blockade in Cancer. Rech AJ, Dada H, Kotzin JJ, Henao-Mejia J, Minn AJ, Twyman-Saint Victor C, Vonderheide RH. Cancer Res. 2018 Aug 1;78(15):4282-4291. doi: 10.1158/0008-5472.CAN-17-3821. Epub 2018 May 29. PMID:29844122
Determination of optical properties, drug concentration, and tissue oxygenation in human pleural tissue before and after Photofrin-mediated photodynamic therapy. Ong YH, Padawer-Curry J, Finlay JC, Kim MM, Dimofte A, Cengel K, Zhu TC. Proc SPIE Int Soc Opt Eng. 2018 Mar;10476. pii: 104760Y. doi: 10.1117/12.2290727. PMID:29805193
A preclinical model to investigate the role of surgically-induced inflammation in tumor responses to intraoperative photodynamic therapy. Davis RW 4th, Papasavvas E, Klampatsa A, Putt M, Montaner LJ, Culligan MJ, McNulty S, Friedberg JS, Simone CB 2nd, Singhal S, Albelda SM, Cengel KA, Busch TM. Lasers Surg Med. 2018 Jul;50(5):440-450. doi: 10.1002/lsm.22934. Epub 2018 May 25. PMID:29799130
Light Fluence Dosimetry in Lung-simulating Cavities. Zhu TC, Kim MM, Padawer J, Dimofte A, Potasek M, Beeson K, Parilov E. Proc SPIE Int Soc Opt Eng. 2018 Jan-Feb;10476. pii: 104760F. doi: 10.1117/12.2291355. Epub 2018 Mar 5. PMID:29780196
A Two-Component Assay for Hypoxia Incorporating Long-Term Nitroreduction and Short-Term DNA-Damage Allows Differentiation of the Three Hypoxia Sub-types. Koch CJ. Radiat Res. 2018 Jul;190(1):72-87. doi: 10.1667/RR15029.1. Epub 2018 May 10. PMID:29746214
Development of a stress response therapy targeting aggressive prostate cancer. Nguyen HG, Conn CS, Kye Y, Xue L, Forester CM, Cowan JE, Hsieh AC, Cunningham JT, Truillet C, Tameire F, Evans MJ, Evans CP, Yang JC, Hann B, Koumenis C, Walter P, Carroll PR, Ruggero D. Sci Transl Med. 2018 May 2;10(439). pii: eaar2036. doi: 10.1126/scitranslmed.aar2036. PMID:29720449
Limitations in predicting the space radiation health risk for exploration astronauts. Chancellor JC, Blue RS, Cengel KA, Auñón-Chancellor SM, Rubins KH, Katzgraber HG, Kennedy AR. NPJ Microgravity. 2018 Apr 3;4:8. doi: 10.1038/s41526-018-0043-2. eCollection 2018. Review. PMID:29644336
Fluorescence-guided surgery and intervention - An AAPM emerging technology blue paper. Pogue BW, Zhu TC, Ntziachristos V, Paulsen KD, Wilson BC, Pfefer J, Nordstrom RJ, Litorja M, Wabnitz H, Chen Y, Gioux S, Tromberg BJ, Yodh AG. Med Phys. 2018 Jun;45(6):2681-2688. doi: 10.1002/mp.12909. Epub 2018 Apr 25. PMID:29633297
Combination Cancer Therapy with Immune Checkpoint Blockade: Mechanisms and Strategies. Patel SA, Minn AJ. Immunity. 2018 Mar 20;48(3):417-433. doi: 10.1016/j.immuni.2018.03.007. Review. PMID:29562193
The dark side of tumor-associated endothelial cells. De Sanctis F, Ugel S, Facciponte J, Facciabene A. Semin Immunol. 2018 Feb;35:35-47. doi: 10.1016/j.smim.2018.02.002. Epub 2018 Feb 26. Review. PMID:29490888
Image guidance doses delivered during radiotherapy: Quantification, management, and reduction: Report of the AAPM Therapy Physics Committee Task Group 180. Ding GX, Alaei P, Curran B, Flynn R, Gossman M, Mackie TR, Miften M, Morin R, Xu XG, Zhu TC. Med Phys. 2018 May;45(5):e84-e99. doi: 10.1002/mp.12824. Epub 2018 Mar 24. PMID:29468678
Gut microbiota modulates adoptive cell therapy via CD8α dendritic cells and IL-12. Uribe-Herranz M, Bittinger K, Rafail S, Guedan S, Pierini S, Tanes C, Ganetsky A, Morgan MA, Gill S, Tanyi JL, Bushman FD, June CH, Facciabene A. JCI Insight. 2018 Feb 22;3(4). pii: 94952. doi: 10.1172/jci.insight.94952. PMID:29467322
A Human Genome-Wide RNAi Screen Reveals Diverse Modulators that Mediate IRE1α-XBP1 Activation. Yang Z, Zhang J, Jiang D, Khatri P, Solow-Cordero DE, Toesca DAS, Koumenis C, Denko NC, Giaccia AJ, Le QT, Koong AC. Mol Cancer Res. 2018 May;16(5):745-753. doi: 10.1158/1541-7786.MCR-17-0307. Epub 2018 Feb 9. PMID:29440447
Vascular niche IL-6 induces alternative macrophage activation in glioblastoma through HIF-2α. Wang Q, He Z, Huang M, Liu T, Wang Y, Xu H, Duan H, Ma P, Zhang L, Zamvil SS, Hidalgo J, Zhang Z, O'Rourke DM, Dahmane N, Brem S, Mou Y, Gong Y, Fan Y. Nat Commun. 2018 Feb 8;9(1):559. doi: 10.1038/s41467-018-03050-0. PMID:29422647
Temporal DNA-PK activation drives genomic instability and therapy resistance in glioma stem cells. Wang Y, Xu H, Liu T, Huang M, Butter PP, Li C, Zhang L, Kao GD, Gong Y, Maity A, Koumenis C, Fan Y. JCI Insight. 2018 Feb 8;3(3). pii: 98096. doi: 10.1172/jci.insight.98096. PMID:29415883
Tumour endothelial marker 1/endosialin-mediated targeting of human sarcoma. Guo Y, Hu J, Wang Y, Peng X, Min J, Wang J, Matthaiou E, Cheng Y, Sun K, Tong X, Fan Y, Zhang PJ, Kandalaft LE, Irving M, Coukos G, Li C. Eur J Cancer. 2018 Feb;90:111-121. doi: 10.1016/j.ejca.2017.10.035. Epub 2018 Jan 4. PMID:29304474
A PERK-miR-211 axis suppresses circadian regulators and protein synthesis to promote cancer cell survival. Bu Y, Yoshida A, Chitnis N, Altman BJ, Tameire F, Oran A, Gennaro V, Armeson KE, McMahon SB, Wertheim GB, Dang CV, Ruggero D, Koumenis C, Fuchs SY, Diehl JA. Nat Cell Biol. 2018 Jan;20(1):104-115. doi: 10.1038/s41556-017-0006-y. Epub 2017 Dec 11. PMID:29230015
Trial watch: DNA-based vaccines for oncological indications. Pierini S, Perales-Linares R, Uribe-Herranz M, Pol JG, Zitvogel L, Kroemer G, Facciabene A, Galluzzi L. Oncoimmunology. 2017 Nov 20;6(12):e1398878. doi: 10.1080/2162402X.2017.1398878. eCollection 2017. Review. PMID:29209575
Maternal CD8+ T-cell depletion alleviates intrauterine inflammation-induced perinatal brain injury. Lei J, Xie L, Zhao H, Gard C, Clemens JL, McLane MW, Feller MC, Ozen M, Novak C, Alshehri W, Alhejaily N, Shabi Y, Rosenzweig JM, Facciabene A, Burd I. Am J Reprod Immunol. 2018 May;79(5):e12798. doi: 10.1111/aji.12798. Epub 2017 Dec 4. PMID:29205631
Synthetic Secoisolariciresinol Diglucoside (LGM2605) Protects Human Lung in an Ex Vivo Model of Proton Radiation Damage. Velalopoulou A, Chatterjee S, Pietrofesa RA, Koziol-White C, Panettieri RA, Lin L, Tuttle S, Berman A, Koumenis C, Christofidou-Solomidou M. Int J Mol Sci. 2017 Nov 25;18(12). pii: E2525. doi: 10.3390/ijms18122525. PMID:29186841