News and Events
Research Updates
Research Updates
2019
Congratulations to
Dr. Andy Minn
, associate professor of Radiation Oncology and appointed director of the newly established Mark Foundation Center for Immunotherapy, Immune Signaling, and Radiation at the University of Pennsylvania. The $12 Million Grant will study the connection between radiation and immunotherapy. Read the
News Release
.
The Division would like to recognize Dr. Theresa Busch on her National Cancer Institute R01 Titled: Photodynamic therapy with prior inhibition of epidermal growth factor receptor to stimulate antitumor innate immune response
Congratulations to Dr. Christoforos Thomas, member of Dr. Amit Maity's Lab, on for receiving a $50,000 Research Award from the PA Breast Cancer Coalition.
Congratulations to Dr. Yi Fan for receiving a 2019 Sharpe Award from National Brain Tumor Society (NBTS)
The Division would like to recognize Feven Tameire of the Koumenis Lab for receiving her Doctorate in Cancer Biology.

Congratulations to Dr. Yi Fan on receiving the Research Excellence Award from American Heart Association.
Close
---
2018
Please join us in congratulating Dr. Yi Fan, along with Fan Lab in publishing the paper, Vascular niche IL-6 induces alternative macrophage activation in glioblastoma through HIF-2α, in the prestigious Nature Communications.

Congratulations to Dr. Yi Fan – the 2018 Springer Junior Investigator Award Recipient! He was awarded at the Vascular Biology 2018, where he presented his Springer Award lecture, "Wnt-mediated endothelial transformation into mesenchymal stem cell-like cells induces chemoresistance in glioblastoma"
To Dr. Yi Fan for receiving 3 awards:
•Brain Cancer Investigator Award, B*Cured Foundation
•Young Investigator Award, Cancer Stem Cell Conference
•Innovative Project Award, American Heart Association
Close
---
2017
June
Congratulations to Dr. Yi Fan for recently receiving the following two awards: the Sharpe Award from National Brain Tumor Society (NBTS) and the Early Career Investigator Award from the Radiation Research Society (RRS).
May
Congratulations to Dr. Andrea Facciabene! He received an award at the Penn Center for Innovation Celebration for Innovation, held on May 3, 2017. Dr. Facciabene was honored for two US patents (# 9,289,426 and #9,290,556). Respectively, these inventions involve Methods and compositions for treating solid tumors and enhancing tumor vaccines and Tumor vascular marker-targeted vaccines.
February
Congratulations to all who received the Radiation Oncology Translational Center of Excellence (TCE) pilot awards!
Using Radiation and Blockade of Interferon Signaling to Improve Durable Response to Immune Checkpoint Blockade Co-PIs: Andy Minn, MD, PhD (RadOnc) & Taku Kambayashi, MD, PhD, (Pathology and Laboratory Medicine) Co-I: E. John Wherry, PhD (Microbiology)
PD-1 Blockade to Attenuate Surgery-Induced Immunosuppression during Intraoperative Photodynamic Therapy Co-PIs: Theresa Busch, PhD & Edmund Moon, MD (Medicine), Keith Cengel, MD, PhD Co-Is: Andrea Facciabene, PhD (RadOnc), Mary Putt, PhD, (Biostatistics and Epidemiology) & Sunil Singhal, MD (Surgery)
Hypofractionated radiotherapy as a vaccine in combination with the TLR7/8 agonist resiquimod for metastatic melanoma Co-PIs: Amit Maity, MD, PhD (RadOnc), George Xu, MD, PhD (Pathology and Laboratory Medicine), & Alain Rook, MD (Dermatology) Co-I: Andrea Facciabene, PhD (RadOnc)
Close
---
2016
The research division congratulates Dr. Theresa Busch and Dr. Zhiliang Cheng (Bioengineering) labs' for their proposal entitled Mesothelin-targeted nanophotosensitizer for photodynamic therapy of TNBC selected by the Center for Targeted Therapeutics and Translational Nanomedicine (CT3N) for funding.
We also congratulate Natalie Daurio in Koumenis Lab for a successful doctoral dissertation defense on March 28, 2016. The title of her thesis was "Tamoxifen Mediated Metabolic Stress: Molecular Mechanism and Therapeutic Opportunities.".
Congratulations to Dr. Gary Kao on the award of his R01 grant, Circulating Tumor Cells Analyses and Molecular Profiling for Patients Receiving Radiation Therapy, which was recently funded by the National Cancer Institute.
We also congratulate Dr. Stephen Avery on receiving R21 grant, Protoacoustics - Clinical Based Range Verification for Cancer Treatment. This project was funded by the National Institute of Biomedical Imaging and Bioengineering.
Congratulations to Dr. Yi Fan was recently honored as a recipient of the 2016 American Association for Cancer Research (AACR) Judah Folkman Career Development Award for Angiogenesis Research. Dr. Fan was selected for this award based on the relevance of his research to the AACR's mission and its expected impact in the field of cancer research. This award recognizes Dr. Fan's position as a burgeoning leader in cancer research.
The 2016 SUPERS program came to a close on Wednesday, August 3 with the end-of-the-program retreat where each of the fourteen SUPERS students presented a summary of their own hypothesis-driven research project. Student projects included research in molecular radiobiology, photodynamic therapy, proton dosimetry and nuclear medicine and PET imaging. In addition to their own hands-on lab experience, students took part in lectures and research discussions led by many of our faculty, as well as faculty from the departments of Radiology and Bioengineering. As the keynote speaker for the event, Dr. Michelle Alonso-Basanta from Penn Radiation Oncology described how her experiences as an undergraduate piqued her interest in a career as a clinician scientist. 2016 represented the 7th summer for the SUPERS program, to date SUPERS has graduated 80 alumni and the vast majority, nearly 90%, have gone on to graduate and/or medical school.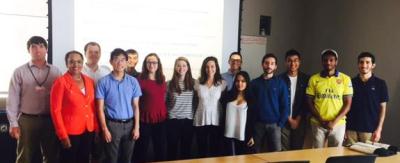 2016 SUPERS students pictured with Dr. Eve Higginbotham, Vice Dean for Inclusion and Diversity at the Perelman School of Medicine. Dr. Higginbotham shared her own formative experiences as an undergrad while stressing the importance of diversity and inclusion to the future of research and medicine in the biomedical research community.
Close
---
2015
PDT: It's Not Just For People! - Check out this link for a story on how photodynamic therapy was recently used to treat Anita the horse for squamous cell cancer that surrounded both of her eyes. Photodynamic therapy, or PDT as it is frequently called, utilizes a light-sensitize drug and lasers to kill cancer cells. Anita's treatment was possible through the collaborative effort of Penn Medicine's Radiation Oncology and Penn Vet's Large Animal Ophthalmology. PDT is studied for treating cancer in people by Radiation Oncology physicians, physicists, and scientists through a multidisciplinary grant that is funded by the National Institutes of Health. It is currently under investigation through the Abramson Cancer Center for the treatment of malignant pleural mesothelioma in conjunction with surgery.
The Research Division congratulates Dr. Cameron Koch on receiving the Outstanding Research Award along with the late Dr. James Raleigh of University of North Carolina at Chapel Hill. This award was presented by Members of the Tumor Microenvironment Research Community at the 14th International Tumor Microenvironment Workshop in Vancouver, British Columbia. It is in recognition of Dr. Koch's contributions to the identification, characterization and targeting of the tumor microenvironment for the advancement of cancer therapy and patient care.
We congratulate Dr. Andy Minn as the recipient of the 2015 Scientific Research Award presented by the American Cancer Society in honor of his outstanding leadership and accomplishments among local cancer professionals.
Additionally, congratulations are in order for Dr. Yi Fan on receiving the McCabe Award from the Perlman School of Medicine for his work on targeting endothelial plasticity to treat brain tumors.
At the recent departmental retreat, Drs. Minn and Fan were further recognized for their achievements through awards for the Radiation Oncology Innovation Award and the Radiation Oncology Young Investigator Award of Excellence, respectively. The Innovation Award was presented to Dr. Minn in recognition of his novel and creative contributions to the field of Radiation Oncology. Dr. Fan received the Young Investigator Award of Excellence as a new faculty member in department (< 3 years) who has shown exemplary performance in the area of clinical service, research or teaching.
Congratulations to Drs. Jay Dorsey and Yi Fan who individually received grants on NeuroOncology Innovation from the Neuro Translational Center of Excellence of the Abramson Cancer Center. Dr. Dorsey is studying Glioma - derived Circulating Tumor Cells, while Dr. Fan's proposal is on the topic of Development of Next-Generation Vasculotherapy by Targeting Vascular Transformation. Finally, we recognize Dr. Fan on the success of his R01 grant Endothelial Plasticity in Glioma Vascularization and Therapy Resistance. This award is expected to begin in October of 2015 and includes Radiation Oncology co-investigator Dr. Jay Dorsey. This is Dr. Fan's first R01 grant and the Division shares with him our hearty congratulations.
The Research Division congratulates Dr. Andy Minn on receiving the Michael S. Brown New Investigator Research Award. This award is given by the Perelman School of Medicine for the purpose of recognizing emerging investigators who are engaged in innovative discoveries. Dr. Minn was selected for this award based on his work in studying radiation and immune therapies as they relate to the biological basis of therapeutic cancer resistance.
Close
---
Recent Division Publications
Evaluation of Light Fluence Distribution Using an IR Navigation System for HPPH-mediated Pleural Photodynamic Therapy (pPDT). Zhu TC, Ong Y, Kim MM, Liang X, Finlay JC, Dimofte A, Simone Nd CB, Friedberg JS, Busch TM, Glatstein E, Cengel KA. Photochem Photobiol. 2019 Sep 25. doi: 10.1111/php.13166. PMID:31556122
Acute neurologic toxicity of palliative radiotherapy for brain metastases in patients receiving immune checkpoint blockade. Arscott WT, Zhu S, Plastaras JP, Maity A, Alonso-Basanta M, Jones J. Neurooncol Pract. 2019 Jul;6(4):297-304. doi: 10.1093/nop/npy042. Epub 2018 Oct 25. PMID:31386046
Opposing Functions of Interferon Coordinate Adaptive and Innate Immune Responses to Cancer Immune Checkpoint Blockade. Benci JL, Johnson LR, Choa R, Xu Y, Qiu J, Zhou Z, Xu B, Ye D, Nathanson KL, June CH, Wherry EJ, Zhang NR, Ishwaran H, Hellmann MD, Wolchok JD, Kambayashi T, Minn AJ. Cell. 2019 Aug 8;178(4):933-948.e14. doi: 10.1016/j.cell.2019.07.019. PMID:31398344
Clinical Outcomes of the HIV Protease Inhibitor Nelfinavir With Concurrent Chemoradiotherapy for Unresectable Stage IIIA/IIIB Non-Small Cell Lung Cancer: A Phase 1/2 Trial. Rengan R, Mick R, Pryma DA, Lin LL, Christodouleas J, Plastaras JP, Simone CB 2nd, Gupta AK, Evans TL, Stevenson JP, Langer CJ, Kucharczuk J, Friedberg J, Lam S, Patsch D, Hahn SM, Maity A. JAMA Oncol. 2019 Aug 22. doi: 10.1001/jamaoncol.2019.2095. PMID:31436839
Vascular Detransformation for Cancer Therapy. Fan Y. Trends Cancer. 2019 Aug;5(8):460-463. doi: 10.1016/j.trecan.2019.05.007. Epub 2019 Jun 14. PMID:31421902
Phenotypic and functional analysis of malignant mesothelioma tumor-infiltrating lymphocytes. Klampatsa A, O'Brien SM, Thompson JC, Rao AS, Stadanlick JE, Martinez MC, Liousia M, Cantu E, Cengel K, Moon EK, Singhal S, Eruslanov EB, Albelda SM. Oncoimmunology. 2019 Jul 13;8(9):e1638211. doi: 10.1080/2162402X.2019.1638211. eCollection 2019. PMID:31428531
Re: Differential impact of FLASH versus conventional dose rate irradiation: Spitz et al. Koch CJ. Radiother Oncol. 2019 Oct;139:62-63. doi: 10.1016/j.radonc.2019.07.004. Epub 2019 Aug 17. PMID:31431380
Early Detection of Recurrence in Patients With Locally Advanced Non-Small-Cell Lung Cancer via Circulating Tumor Cell Analysis.Chinniah C, Aguarin L, Cheng P, Decesaris C, Cutillo A, Berman AT, Frick M, Doucette A, Cengel KA, Levin W, Hahn S, Dorsey JF, Simone CB 2nd, Kao GD. Clin Lung Cancer. 2019 Sep;20(5):384-390.e2. doi: 10.1016/j.cllc.2019.04.011. Epub 2019 May 4. PMID:31221522
Intratumoral Hypoxia Reduces IFN-γ-Mediated Immunity and MHC Class I Induction in a Preclinical Tumor Model. Murthy A, Gerber SA, Koch CJ, Lord EM. Immunohorizons. 2019 Apr 29;3(4):149-160. doi: 10.4049/immunohorizons.1900017. PMID:31356176
Reactive oxygen species explicit dosimetry to predict local tumor control for Photofrin-mediated photodynamic therapy. Sheng T, Ong YH, Busch TM, Zhu TC. Proc SPIE Int Soc Opt Eng. 2019 Feb;10860. pii: 108600V. doi: 10.1117/12.2508803. Epub 2019 Mar 12. PMID:31327886
Reactive oxygen species explicit dosimetry to predict tumor growth for BPD-mediated vascular photodynamic therapy. Sheng T, Ong YH, Busch TM, Zhu TC. Proc SPIE Int Soc Opt Eng. 2019 Feb;10861. pii: 108610A. doi: 10.1117/12.2514657. Epub 2019 Mar 7. PMID:31080306
Cooperation between Constitutive and Inducible Chemokines Enables T Cell Engraftment and Immune Attack in Solid Tumors. Dangaj D, Bruand M, Grimm AJ, Ronet C, Barras D, Duttagupta PA, Lanitis E, Duraiswamy J, Tanyi JL, Benencia F, Conejo-Garcia J, Ramay HR, Montone KT, Powell DJ Jr, Gimotty PA, Facciabene A, Jackson DG, Weber JS, Rodig SJ, Hodi SF, Kandalaft LE, Irving M, Zhang L, Foukas P, Rusakiewicz S, Delorenzi M, Coukos G. Cancer Cell. 2019 Jun 10;35(6):885-900.e10. doi: 10.1016/j.ccell.2019.05.004. PMID:31185212
ATF4 couples MYC-dependent translational activity to bioenergetic demands during tumour progression. Tameire F, Verginadis II, Leli NM, Polte C, Conn CS, Ojha R, Salinas CS, Chinga F, Monroy AM, Fu W, Wang P, Kossenkov A, Ye J, Amaravadi RK, Ignatova Z, Fuchs SY, Diehl JA, Ruggero D, Koumenis C. Nat Cell Biol. 2019 Aug;21(8):1052. doi: 10.1038/s41556-019-0370-x. PMID:31316187
Predicting radiation pneumonitis in locally advanced stage II-III non-small cell lung cancer using machine learning. Luna JM, Chao HH, Diffenderfer ES, Valdes G, Chinniah C, Ma G, Cengel KA, Solberg TD, Berman AT, Simone CB 2nd. Radiother Oncol. 2019 Apr;133:106-112. doi: 10.1016/j.radonc.2019.01.003. Epub 2019 Jan 23. PMID:30935565
Important Technical Considerations for Implementing the ASTRO/ASCO/AUA Prostate Cancer Hypofractionated Radiation Guideline. LaRiviere MJ, Zhu TC, Christodouleas JP. Pract Radiat Oncol. 2019 Jul - Aug;9(4):197-199. doi: 10.1016/j.prro.2019.02.017. Epub 2019 Mar 2. No abstract available. PMID:30836189
Validation of combined Monte Carlo and photokinetic simulations for the outcome correlation analysis of benzoporphyrin derivative-mediated photodynamic therapy on mice. Beeson KW, Parilov E, Potasek M, Kim MM, Zhu TC. J Biomed Opt. 2019 Mar;24(3):1-9. doi: 10.1117/1.JBO.24.3.035006. PMID:30873764
The PKR-Like Endoplasmic Reticulum Kinase Promotes the Dissemination of Myc-Induced Leukemic Cells. Gui J, Katlinski KV, Koumenis C, Diehl JA, Fuchs SY. Mol Cancer Res. 2019 Jul;17(7):1450-1458. doi: 10.1158/1541-7786.MCR-19-0002. Epub 2019 Mar 22. PMID:30902831
Genomic characterization of genes encoding histone acetylation modulator proteins identifies therapeutic targets for cancer treatment. Hu Z, Zhou J, Jiang J, Yuan J, Zhang Y, Wei X, Loo N, Wang Y, Pan Y, Zhang T, Zhong X, Long M, Montone KT, Tanyi JL, Fan Y, Wang TL, Shih IM, Hu X, Zhang L. Nat Commun. 2019 Feb 13;10(1):733. doi: 10.1038/s41467-019-08554-x. PMID:30760718
Chlorin e6-Coated Superparamagnetic Iron Oxide Nanoparticle (SPION) Nanoclusters as a Theranostic Agent for Dual-Mode Imaging and Photodynamic Therapy. Amirshaghaghi A, Yan L, Miller J, Daniel Y, Stein JM, Busch TM, Cheng Z, Tsourkas A. Sci Rep. 2019 Feb 22;9(1):2613. doi: 10.1038/s41598-019-39036-1. PMID:30796251
5-aminolevulinic acid photodynamic therapy for the treatment of high-grade gliomas. Mahmoudi K, Garvey KL, Bouras A, Cramer G, Stepp H, Jesu Raj JG, Bozec D, Busch TM, Hadjipanayis CG. J Neurooncol. 2019 Feb;141(3):595-607. doi: 10.1007/s11060-019-03103-4. Epub 2019 Jan 18. Review. PMID:30659522
Precision Cardio-Oncology. Dreyfuss AD, Bravo PE, Koumenis C, Ky B. J Nucl Med. 2019 Apr;60(4):443-450. doi: 10.2967/jnumed.118.220137. Epub 2019 Jan 17. PMID:30655328
An Interferon-Driven Oxysterol-Based Defense against Tumor-Derived Extracellular Vesicles. Ortiz A, Gui J, Zahedi F, Yu P, Cho C, Bhattacharya S, Carbone CJ, Yu Q, Katlinski KV, Katlinskaya YV, Handa S, Haas V, Volk SW, Brice AK, Wals K, Matheson NJ, Antrobus R, Ludwig S, Whiteside TL, Sander C, Tarhini AA, Kirkwood JM, Lehner PJ, Guo W, Rui H, Minn AJ, Koumenis C, Diehl JA, Fuchs SY. Cancer Cell. 2019 Jan 14;35(1):33-45.e6. doi: 10.1016/j.ccell.2018.12.001. PMID:30645975
An Integrated Stress Response Agent that Modulates DR5-Dependent TRAIL Synergy Reduces Patient-Derived Glioma Stem Cell Viability. Sheikh S, Saxena D, Tian X, Amirshaghaghi A, Tsourkas A, Brem S, Dorsey JF. Mol Cancer Res. 2019 May;17(5):1102-1114. doi: 10.1158/1541-7786.MCR-18-0276. Epub 2019 Jan 14. PMID:30642878
LGM2605 Reduces Space Radiation-Induced NLRP3 Inflammasome Activation and Damage in In Vitro Lung Vascular Networks. Chatterjee S, Pietrofesa RA, Park K, Tao JQ, Carabe-Fernandez A, Berman AT, Koumenis C, Sielecki T, Christofidou-Solomidou M. Int J Mol Sci. 2019 Jan 5;20(1). pii: E176. doi: 10.3390/ijms20010176. PMID:30621290
ER Translocation of the MAPK Pathway Drives Therapy Resistance in BRAF-Mutant Melanoma. Ojha R, Leli NM, Onorati A, Piao S, Verginadis II, Tameire F, Rebecca VW, Chude CI, Murugan S, Fennelly C, Noguera-Ortega E, Chu CT, Liu S, Xu X, Krepler C, Xiao M, Xu W, Wei Z, Frederick DT, Boland G, Mitchell TC, Karakousis GC, Schuchter LM, Flaherty KT, Zhang G, Herlyn M, Koumenis C, Amaravadi RK. Cancer Discov. 2019 Mar;9(3):396-415. doi: 10.1158/2159-8290.CD-18-0348. Epub 2018 Dec 18. Erratum in: Cancer Discov. 2019 Jul;9(7):981. PMID:30563872
Modeling Epidermal Growth Factor Inhibitor-mediated Enhancement of Photodynamic Therapy Efficacy Using 3D Mesothelioma Cell Culture. Cramer G, Shin M, Hagan S, Katz SI, Simone CB 2nd, Busch TM, Cengel KA. Photochem Photobiol. 2019 Jan;95(1):397-405. doi: 10.1111/php.13067. Epub 2019 Jan 7. PMID:30499112
A Novel Prospective Study Assessing the Combination of Photodynamic Therapy and Proton Radiation Therapy: Safety and Outcomes When Treating Malignant Pleural Mesothelioma. Rice SR, Li YR, Busch TM, Kim MM, McNulty S, Dimofte A, Zhu TC, Cengel KA, Simone CB 2nd. Photochem Photobiol. 2019 Jan;95(1):411-418. doi: 10.1111/php.13065. Epub 2018 Dec 28. PMID:30485442
Early Changes in Cardiovascular Biomarkers with Contemporary Thoracic Radiation Therapy for Breast Cancer, Lung Cancer, and Lymphoma. Demissei BG, Freedman G, Feigenberg SJ, Plastaras JP, Maity A, Smith AM, McDonald C, Sheline K, Simone CB 2nd, Lin LL, Carver JR, Liu P, Zhang L, Bekelman JE, Ky B. Int J Radiat Oncol Biol Phys. 2019 Mar 15;103(4):851-860. doi: 10.1016/j.ijrobp.2018.11.013. Epub 2018 Nov 14. PMID:30445173
YAP1 enhances NF-κB-dependent and independent effects on clock-mediated unfolded protein responses and autophagy in sarcoma.Rivera-Reyes A, Ye S, E Marino G, Egolf S, E Ciotti G, Chor S, Liu Y, Posimo JM, Park PMC, Pak K, Babichev Y, Sostre-Colón J, Tameire F, Leli NM, Koumenis C, C Brady D, Mancuso A, Weber K, Gladdy R, Qi J, Eisinger-Mathason TSK. Cell Death Dis. 2018 Oct 31;9(11):1108. doi: 10.1038/s41419-018-1142-4. PMID:30382078
Luminol Chemiluminescence Reports Photodynamic Therapy-Generated Neutrophil Activity In Vivo and Serves as a Biomarker of Therapeutic Efficacy. Davis RW 4th, Snyder E, Miller J, Carter S, Houser C, Klampatsa A, Albelda SM, Cengel KA, Busch TM. Photochem Photobiol. 2019 Jan;95(1):430-438. doi: 10.1111/php.13040. Epub 2018 Nov 26. PMID:30357853
Inhibiting Autophagy in Renal Cell Cancer and the Associated Tumor Endothelium. Russell KL, Gorgulho CM, Allen A, Vakaki M, Wang Y, Facciabene A, Lee D, Roy P, Buchser WJ, Appleman LJ, Maranchie J, Storkus WJ, Lotze MT. Cancer J. 2019 May/Jun;25(3):165-177. doi: 10.1097/PPO.0000000000000374. PMID:31135523
Toward a comprehensive view of cancer immune responsiveness: a synopsis from the SITC workshop. Bedognetti D, Ceccarelli M, Galluzzi L, Lu R, Palucka K, Samayoa J, Spranger S, Warren S, Wong KK, Ziv E, Chowell D, Coussens LM, De Carvalho DD, DeNardo DG, Galon J, Kaufman HL, Kirchhoff T, Lotze MT, Luke JJ, Minn AJ, Politi K, Shultz LD, Simon R, Thórsson V, Weidhaas JB, Ascierto ML, Ascierto PA, Barnes JM, Barsan V, Bommareddy PK, Bot A, Church SE, Ciliberto G, De Maria A, Draganov D, Ho WS, McGee HM, Monette A, Murphy JF, Nisticò P, Park W, Patel M, Quigley M, Radvanyi L, Raftopoulos H, Rudqvist NP, Snyder A, Sweis RF, Valpione S, Zappasodi R, Butterfield LH, Disis ML, Fox BA, Cesano A, Marincola FM; Society for Immunotherapy of Cancer (SITC) Cancer Immune Responsiveness Task Force and Working Groups. J Immunother Cancer. 2019 May 22;7(1):131. doi: 10.1186/s40425-019-0602-4. Review. Erratum in: J Immunother Cancer. 2019 Jul 4;7(1):167. PMID:31113486
A prospective clinical trial of proton therapy for chordoma and chondrosarcoma: Feasibility assessment. Baumann BC, Lustig RA, Mazzoni S, Grady SM, O'Malley BW, Lee JYK, Newman JG, Schuster JM, Both S, Lin A, Dorsey JF, Alonso-Basanta M. J Surg Oncol. 2019 Aug;120(2):200-205. doi: 10.1002/jso.25502. Epub 2019 May 20. PMID:31111502
Lymphangitic carcinomatosis: A common radiographic manifestation of local failure following extended pleurectomy/decortication in patients with malignant pleural mesothelioma. Berger I, Cengel KA, Simone CB 2nd, Alley EW, Roshkovan L, Haas AR, Patel AM, Khalid U, Culligan MJ, McNulty S, Singhal S, Friedberg JS, Katz SI. Lung Cancer. 2019 Jun;132:94-98. doi: 10.1016/j.lungcan.2019.03.026. Epub 2019 Mar 26. PMID:31097101
Design and commissioning of an image-guided small animal radiation platform and quality assurance protocol for integrated proton and x-ray radiobiology research. Kim MM, Irmen P, Shoniyozov K, Verginadis II, Cengel KA, Koumenis C, Metz JM, Dong L, Diffenderfer ES. Phys Med Biol. 2019 Jul 4;64(13):135013. doi: 10.1088/1361-6560/ab20d9. PMID:31075786
5-aminolevulinic acid photodynamic therapy for the treatment of high-grade gliomas. Mahmoudi K, Garvey KL, Bouras A, Cramer G, Stepp H, Jesu Raj JG, Bozec D, Busch TM, Hadjipanayis CG. J Neurooncol. 2019 Feb;141(3):595-607. doi: 10.1007/s11060-019-03103-4. Epub 2019 Jan 18. Review. PMID:30659522
Close
---
Archived Publications
---
© The Trustees of the University of Pennsylvania | Site best viewed in a supported browser. | Report Accessibility Issues and Get Help | Site Design: PMACS Web Team.