Welcome to the Department of Radiation Oncology
Message from James M. Metz, MD — Chairman
Penn Radiation Oncology is dedicated to a three-part mission of excellence in patient care, basic and translational research, and the education of residents and students. We are committed to delivering excellence in every area and as such we steadfastly believe that "Excellence is Standard."
Penn Radiation Oncology is one of the most comprehensive radiation oncology programs in the world. The outstanding faculty and staff, combined with Penn's extensive collection of advanced technology, gives patients access to nearly every treatment option available for their cancer. The broad range of radiation treatments available include proton therapy, intensity-modulated radiation therapy (IMRT), high-dose rate (HDR) and low-dose rate brachytherapy, partial breast irradiation, stereotactic radiosurgery (SRS), and Gamma Knife radiation. With the Abramson Cancer Center of the University of Pennsylvania, Penn Radiation Oncology provides patient care at the Ruth and Raymond Perelman Center for Advanced Medicine and seven community-based sites.
News
Proton and SARRP Research Room Grand Opening




3/15/2017


A ceremony was held to celebrate the grand opening of the newly renovated Albert Chadwick Research Room, and to thank all who were involved in the project. Facility tours were given.

Dr. Ann R. Kennedy Symposium




11/3/2016


The Symposium was held to recognize the many contributions that Dr. Kennedy has made in the study of space radiation medicine and radioprotection during her illustrious 28 year research career here at Penn. The symposium was opened by Dr. Metz, followed by a keynote presentation by NASA Astronaut Serena M. Aunon-Chancellor, MD, MPH, who spoke on the Medical Challenges of Working in Low Earth Orbit.
Upcoming Events
Spotlight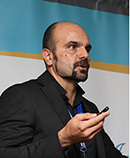 Congratulations! Dr. Andrea Facciabene received an award at the Penn Center for Innovation Celebration for Innovation Ceremony on May 3, 2017, for his 2 patents from 2016
Penn Medicine News: From the Room Next Door to the Next Planet Over: New Proton Center Research Room Will Have an Impact Near and Far
Penn Current: Penn Scientists help NASA Understand Radiation Risks for Future Trips to Mars
Below, please find our most recent Department of Radiation Oncology Newsletters with updates, announcements, events, recognitions, and many other features:
© The Trustees of the University of Pennsylvania | Site best viewed in a supported browser. | Site Design: PMACS Web Team.