Maity Lab
Amit Maity, M.D., Ph.D.
Morton M. Kligerman Professor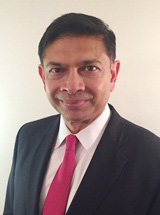 University of Pennsylvania School of Medicine
Department of Radiation Oncology
2 PCAM West
3400 Civic Center Blvd
Philadelphia, PA 19104
Office: (215) 662-3799 | Lab: (215) 573-3353 | Fax: (215)-349-5445
maity@uphs.upenn.edu
Publications (link to PubMed)
CV (link to pdf file)
Lab Members:
Ilias Karagounis, PhD (Research Associate)
Description of Research Expertise
Research Interests:
Investigating drugs that increase the radiation response and understanding the mechanisms underlying these effects.
Keywords:
tumor microenvironment, tumor metabolism, radiosensitizers, PI3K/Akt/mTOR pathway, nelfinavir, immunotherapy
Research Details:
My laboratory has had a longstanding interest in the drug nelfinavir, a protease inhibitor used to treat HIV infection. We have shown that this drug radiosensitizes cells in vitro as well as in vivo. In investigating its effects we have found that nelfinavir decreases tumor hypoxia as a result of decreasing tumor O2 consumption. Laboratory studies are ongoing to understand how this occurs. This research is funded by an R01 "Using 18F-EF5 PET to measure hypoxia modulation by Nelfinavir in larynx cancer" with Dr. Alexander Lin and myself as Principal Investigators. This grant also funds a clinical trial incorporating nelfinavir in combination with radiation in the treatment of locally advanced HPV-negative laryngeal cancer.
We are also interested in the PI3K/Akt/mTOR pathway and understanding how inhibition of this pathway using clinically available drugs such as NVP-BEZ235 and NVP-BKM120 increases sensitivity to radiation. We have shown that inhibition of the PI3K/Akt pathway increases autophagy, which is cytoprotective, and that inhibition of this process can augment killing induced by radiation. More recent work indicates that this pathway regulates O2 metabolism and that inhibition of the PI3K/Akt pathway can lead to decreased O2 consumption and decreased hypoxia within tumors. This has important clinical ramifications in that reducing hypoxia should improve radiation response.
I am also engaged in clinical research aimed at investigating whether radiation can potentiate the effect of various immunomodulatory drugs on the immune response against cancers. Along with Dr. Stephen Hahn I am currently co-PI of a protocol entitled "RADVAX™: A STRATIFIED PHASE I/II DOSE ESCALATION TRIAL OF HYPOFRACTIONATED RADIOTHERAPY FOLLOWED BY IPILIMUMAB IN METASTATIC MELANOMA." This protocol explores the idea that 2-3 fractions of relatively large doses of radiation (6-8 Gy) may boost the effects of the anti-CTLA4 inhibitor ipilimumab in patients with metastatic melanoma. Future clinical trials are being planned in which other immunomodulatory agents will be used in combination with hypofractionated radiotherapy in patients with metastases from melanoma and other cancers.