News and Events
Research Updates
Research Updates
2018
---
2017
June
Congratulations to Dr. Yi Fan for recently receiving the following two awards: the Sharpe Award from National Brain Tumor Society (NBTS) and the Early Career Investigator Award from the Radiation Research Society (RRS).
May
Congratulations to Dr. Andrea Facciabene! He received an award at the Penn Center for Innovation Celebration for Innovation, held on May 3, 2017. Dr. Facciabene was honored for two US patents (# 9,289,426 and #9,290,556). Respectively, these inventions involve Methods and compositions for treating solid tumors and enhancing tumor vaccines and Tumor vascular marker-targeted vaccines.
February
Congratulations to all who received the Radiation Oncology Translational Center of Excellence (TCE) pilot awards!
Using Radiation and Blockade of Interferon Signaling to Improve Durable Response to Immune Checkpoint Blockade Co-PIs: Andy Minn, MD, PhD (RadOnc) & Taku Kambayashi, MD, PhD, (Pathology and Laboratory Medicine) Co-I: E. John Wherry, PhD (Microbiology)
PD-1 Blockade to Attenuate Surgery-Induced Immunosuppression during Intraoperative Photodynamic Therapy Co-PIs: Theresa Busch, PhD & Edmund Moon, MD (Medicine), Keith Cengel, MD, PhD Co-Is: Andrea Facciabene, PhD (RadOnc), Mary Putt, PhD, (Biostatistics and Epidemiology) & Sunil Singhal, MD (Surgery)
Hypofractionated radiotherapy as a vaccine in combination with the TLR7/8 agonist resiquimod for metastatic melanoma Co-PIs: Amit Maity, MD, PhD (RadOnc), George Xu, MD, PhD (Pathology and Laboratory Medicine), & Alain Rook, MD (Dermatology) Co-I: Andrea Facciabene, PhD (RadOnc)
Close
---
2016
The research division congratulates Dr. Theresa Busch and Dr. Zhiliang Cheng (Bioengineering) labs' for their proposal entitled Mesothelin-targeted nanophotosensitizer for photodynamic therapy of TNBC selected by the Center for Targeted Therapeutics and Translational Nanomedicine (CT3N) for funding.
We also congratulate Natalie Daurio in Koumenis Lab for a successful doctoral dissertation defense on March 28, 2016. The title of her thesis was "Tamoxifen Mediated Metabolic Stress: Molecular Mechanism and Therapeutic Opportunities.".
Congratulations to Dr. Gary Kao on the award of his R01 grant, Circulating Tumor Cells Analyses and Molecular Profiling for Patients Receiving Radiation Therapy, which was recently funded by the National Cancer Institute.
We also congratulate Dr. Stephen Avery on receiving R21 grant, Protoacoustics - Clinical Based Range Verification for Cancer Treatment. This project was funded by the National Institute of Biomedical Imaging and Bioengineering.
Congratulations to Dr. Yi Fan was recently honored as a recipient of the 2016 American Association for Cancer Research (AACR) Judah Folkman Career Development Award for Angiogenesis Research. Dr. Fan was selected for this award based on the relevance of his research to the AACR's mission and its expected impact in the field of cancer research. This award recognizes Dr. Fan's position as a burgeoning leader in cancer research.
The 2016 SUPERS program came to a close on Wednesday, August 3 with the end-of-the-program retreat where each of the fourteen SUPERS students presented a summary of their own hypothesis-driven research project. Student projects included research in molecular radiobiology, photodynamic therapy, proton dosimetry and nuclear medicine and PET imaging. In addition to their own hands-on lab experience, students took part in lectures and research discussions led by many of our faculty, as well as faculty from the departments of Radiology and Bioengineering. As the keynote speaker for the event, Dr. Michelle Alonso-Basanta from Penn Radiation Oncology described how her experiences as an undergraduate piqued her interest in a career as a clinician scientist. 2016 represented the 7th summer for the SUPERS program, to date SUPERS has graduated 80 alumni and the vast majority, nearly 90%, have gone on to graduate and/or medical school.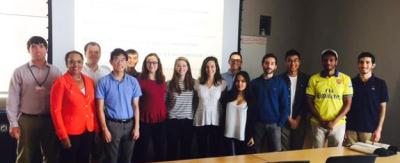 2016 SUPERS students pictured with Dr. Eve Higginbotham, Vice Dean for Inclusion and Diversity at the Perelman School of Medicine. Dr. Higginbotham shared her own formative experiences as an undergrad while stressing the importance of diversity and inclusion to the future of research and medicine in the biomedical research community.
Close
---
2015
PDT: It's Not Just For People! - Check out this link for a story on how photodynamic therapy was recently used to treat Anita the horse for squamous cell cancer that surrounded both of her eyes. Photodynamic therapy, or PDT as it is frequently called, utilizes a light-sensitize drug and lasers to kill cancer cells. Anita's treatment was possible through the collaborative effort of Penn Medicine's Radiation Oncology and Penn Vet's Large Animal Ophthalmology. PDT is studied for treating cancer in people by Radiation Oncology physicians, physicists, and scientists through a multidisciplinary grant that is funded by the National Institutes of Health. It is currently under investigation through the Abramson Cancer Center for the treatment of malignant pleural mesothelioma in conjunction with surgery.
The Research Division congratulates Dr. Cameron Koch on receiving the Outstanding Research Award along with the late Dr. James Raleigh of University of North Carolina at Chapel Hill. This award was presented by Members of the Tumor Microenvironment Research Community at the 14th International Tumor Microenvironment Workshop in Vancouver, British Columbia. It is in recognition of Dr. Koch's contributions to the identification, characterization and targeting of the tumor microenvironment for the advancement of cancer therapy and patient care.
We congratulate Dr. Andy Minn as the recipient of the 2015 Scientific Research Award presented by the American Cancer Society in honor of his outstanding leadership and accomplishments among local cancer professionals.
Additionally, congratulations are in order for Dr. Yi Fan on receiving the McCabe Award from the Perlman School of Medicine for his work on targeting endothelial plasticity to treat brain tumors.
At the recent departmental retreat, Drs. Minn and Fan were further recognized for their achievements through awards for the Radiation Oncology Innovation Award and the Radiation Oncology Young Investigator Award of Excellence, respectively. The Innovation Award was presented to Dr. Minn in recognition of his novel and creative contributions to the field of Radiation Oncology. Dr. Fan received the Young Investigator Award of Excellence as a new faculty member in department (< 3 years) who has shown exemplary performance in the area of clinical service, research or teaching.
Congratulations to Drs. Jay Dorsey and Yi Fan who individually received grants on NeuroOncology Innovation from the Neuro Translational Center of Excellence of the Abramson Cancer Center. Dr. Dorsey is studying Glioma - derived Circulating Tumor Cells, while Dr. Fan's proposal is on the topic of Development of Next-Generation Vasculotherapy by Targeting Vascular Transformation. Finally, we recognize Dr. Fan on the success of his R01 grant Endothelial Plasticity in Glioma Vascularization and Therapy Resistance. This award is expected to begin in October of 2015 and includes Radiation Oncology co-investigator Dr. Jay Dorsey. This is Dr. Fan's first R01 grant and the Division shares with him our hearty congratulations.
The Research Division congratulates Dr. Andy Minn on receiving the Michael S. Brown New Investigator Research Award. This award is given by the Perelman School of Medicine for the purpose of recognizing emerging investigators who are engaged in innovative discoveries. Dr. Minn was selected for this award based on his work in studying radiation and immune therapies as they relate to the biological basis of therapeutic cancer resistance.
Close
---
Recent Division Publications
Assessing the Validity of Clinician Advice That Patients Avoid Use of Topical Agents Before Daily Radiotherapy Treatments. Baumann BC, Verginadis II, Zeng C, Bell B, Koduri S, Vachani C, MacArthur KM, Solberg TD, Koumenis C, Metz JM. JAMA Oncol. 2018 Oct 18. doi: 10.1001/jamaoncol.2018.4292. PMID:30347008
Five-year Long-term Outcomes of Stereotactic Body Radiation Therapy for Operable Versus Medically Inoperable Stage I Non-small-cell Lung Cancer: Analysis by Operability, Fractionation Regimen, Tumor Size, and Tumor Location. Schonewolf CA, Heskel M, Doucette A, Singhal S, Frick MA, Xanthopoulos EP, Corradetti MN, Friedberg JS, Pechet TT, Christodouleas JP, Levin W, Berman A, Cengel KA, Verma V, Hahn SM, Kucharczuk JC, Rengan R, Simone CB 2nd. Clin Lung Cancer. 2018 Sep 20. pii: S1525-7304(18)30237-7. doi: 10.1016/j.cllc.2018.09.004. PMID:30337269
Interleukin-6 signaling blockade exacerbates acute and late injury from focal intestinal irradiation. Bell BI, Koduri S, Salinas CS, Monslow J, Puré E, Ben-Josef E, Koumenis C, Verginadis II. Int J Radiat Oncol Biol Phys. 2018 Oct 15. pii: S0360-3016(18)33858-6. doi: 10.1016/j.ijrobp.2018.10.007. PMID:30336264
Circulating glioma cells exhibit stem cell-like properties. Liu T, Xu H, Huang M, Ma W, Saxena D, Lustig RA, Alonso-Basanta M, Zhang Z, O Rourke DM, Zhang L, Gong Y, Kao GD, Dorsey JF, Fan Y. Cancer Res. 2018 Oct 15. pii: canres.0650.2018. doi: 10.1158/0008-5472.CAN-18-0650. PMID:30322863
A phase I trial of pembrolizumab with hypofractionated radiotherapy in patients with metastatic solid tumours. Maity A, Mick R, Huang AC, George SM, Farwell MD, Lukens JN, Berman AT, Mitchell TC, Bauml J, Schuchter LM, O'Hara M, Lin LL, Demichele A, Christodouleas JP, Haas NB, Patsch DM, Hahn SM, Minn AJ, Wherry EJ, Vonderheide RH. Br J Cancer. 2018 Oct 15. PMID:30318516
Integrated Analysis of Genetic Ancestry and Genomic Alterations across Cancers. Yuan J, Hu Z, Mahal BA, Zhao SD, Kensler KH, Pi J, Hu X, Zhang Y, Wang Y, Jiang J, Li C, Zhong X, Montone KT, Guan G, Tanyi JL, Fan Y, Xu X, Morgan MA, Long M, Zhang Y, Zhang R, Sood AK, Rebbeck TR, Dang CV, Zhang L. Cancer Cell. 2018 Oct 8;34(4):549-560.e9. doi: 10.1016/j.ccell.2018.08.019. PMID:30300578
Circulating Tumor Cell Assessment in Presumed Early Stage Non-Small Cell Lung Cancer Patients Treated with Stereotactic Body Radiation Therapy: A Prospective Pilot Study. Frick MA, Kao GD, Aguarin L, Chinniah C, Swisher-McClure S, Berman AT, Levin WP, Cengel KA, DeCesaris C, Hahn SM, Dorsey JF, Simone CB 2nd. Int J Radiat Oncol Biol Phys. 2018 Nov 1;102(3):536-542. doi: 10.1016/j.ijrobp.2018.06.041. Epub 2018 Jul 2. PMID:30244877
Adjuvant, neoadjuvant, and definitive radiation therapy for malignant pleural mesothelioma. Cramer G, Simone CB 2nd, Busch TM, Cengel KA. J Thorac Dis. 2018 Aug;10(Suppl 21):S2565-S2573. doi: 10.21037/jtd.2018.07.65. Review. PMID:30206500
RNA-binding protein LIN28B inhibits apoptosis through regulation of the AKT2/FOXO3A/BIM axis in ovarian cancer cells. Lin X, Shen J, Dan Peng, He X, Xu C, Chen X, Tanyi JL, Montone K, Fan Y, Huang Q, Zhang L, Zhong X. Signal Transduct Target Ther. 2018 Aug 31;3:23. doi: 10.1038/s41392-018-0026-5. eCollection 2018. PMID:30174831
PDGF-mediated mesenchymal transformation renders endothelial resistance to anti-VEGF treatment in glioblastoma. Liu T, Ma W, Xu H, Huang M, Zhang D, He Z, Zhang L, Brem S, O'Rourke DM, Gong Y, Mou Y, Zhang Z, Fan Y. Nat Commun. 2018 Aug 27;9(1):3439. doi: 10.1038/s41467-018-05982-z. PMID:30150753
Targeting mitochondria in cancer: current concepts and immunotherapy approaches. Pustylnikov S, Costabile F, Beghi S, Facciabene A. Transl Res. 2018 Jul 31. pii: S1931-5244(18)30114-2. doi: 10.1016/j.trsl.2018.07.013. Review. PMID:30144423
A Clinical Trial of TumorGlow® to Identify Residual Disease during Pleurectomy and Decortication. Predina JD, Newton AD, Corbett C, Xia L, Shin M, Sulfyok LF, Okusanya OT, Cengel KA, Haas A, Litzky L, Kucharczuk JC, Singhal S. Ann Thorac Surg. 2018 Jul 17. pii: S0003-4975(18)30995-0. doi: 10.1016/j.athoracsur.2018.06.015. PMID:30028985
Safety and Feasibility of Integrating Yttrium-90 Radioembolization With Capecitabine-Temozolomide for Grade 2 Liver-Dominant Metastatic Neuroendocrine Tumors. Soulen MC, van Houten D, Teitelbaum UR, Damjanov N, Cengel KA, Metz DC. Pancreas. 2018 Sep;47(8):980-984. doi: 10.1097/MPA.0000000000001115. PMID:30028446
Radiosensitization by the PARP inhibitor olaparib in BRCA1-proficient and deficient high-grade serous ovarian carcinomas. Bi Y, Verginadis II, Dey S, Lin L, Guo L, Zheng Y, Koumenis C. Gynecol Oncol. 2018 Sep;150(3):534-544. doi: 10.1016/j.ygyno.2018.07.002. Epub 2018 Jul 17. PMID:30025822
Pro-tumorigenic AMPK in glioblastoma. Leli NM, Koumenis C. Nat Cell Biol. 2018 Jul;20(7):736-737. doi: 10.1038/s41556-018-0129-9. PMID:29915356
Protoporphyrin IX (PpIX)-Coated Superparamagnetic Iron Oxide Nanoparticle (SPION) Nanoclusters for Magnetic Resonance Imaging and Photodynamic Therapy. Yan L, Amirshaghaghi A, Huang D, Miller J, Stein JM, Busch TM, Cheng Z, Tsourkas A. Adv Funct Mater. 2018 Apr 17;28(16). pii: 1707030. doi: 10.1002/adfm.201707030. Epub 2018 Feb 15. PMID:29910700
A quality assurance program for clinical PDT. Dimofte A, Finlay J, Ong YH, Zhu TC. Proc SPIE Int Soc Opt Eng. 2018 Mar;10476. pii: 104760L. doi: 10.1117/12.2288561. PMID:29861532
Reactive Oxygen Species Explicit Dosimetry (ROSED) of a Type 1 Photosensitizer. Ong YH, Kim MM, Huang Z, Zhu TC. Proc SPIE Int Soc Opt Eng. 2018 Feb;10476. pii: 104760V. doi: 10.1117/12.2291385. PMID:29861531
Acid Suspends the Circadian Clock in Hypoxia through Inhibition of mTOR. Walton ZE, Patel CH, Brooks RC, Yu Y, Ibrahim-Hashim A, Riddle M, Porcu A, Jiang T, Ecker BL, Tameire F, Koumenis C, Weeraratna AT, Welsh DK, Gillies R, Alwine JC, Zhang L, Powell JD, Dang CV. Cell. 2018 Jun 28;174(1):72-87.e32. doi: 10.1016/j.cell.2018.05.009. Epub 2018 May 31. PMID:29861175
Monte Carlo modelling of fluorescence in semi-infinite turbid media. Ong YH, Finlay JC, Zhu TC. Proc SPIE Int Soc Opt Eng. 2018 Jan-Feb;10492. pii: 104920T. doi: 10.1117/12.2290137. Epub 2018 Feb 26. PMID:29853731
Radiotherapy and CD40 Activation Separately Augment Immunity to Checkpoint Blockade in Cancer. Rech AJ, Dada H, Kotzin JJ, Henao-Mejia J, Minn AJ, Twyman-Saint Victor C, Vonderheide RH. Cancer Res. 2018 Aug 1;78(15):4282-4291. doi: 10.1158/0008-5472.CAN-17-3821. Epub 2018 May 29. PMID:29844122
Determination of optical properties, drug concentration, and tissue oxygenation in human pleural tissue before and after Photofrin-mediated photodynamic therapy. Ong YH, Padawer-Curry J, Finlay JC, Kim MM, Dimofte A, Cengel K, Zhu TC. Proc SPIE Int Soc Opt Eng. 2018 Mar;10476. pii: 104760Y. doi: 10.1117/12.2290727. PMID:29805193
A preclinical model to investigate the role of surgically-induced inflammation in tumor responses to intraoperative photodynamic therapy. Davis RW 4th, Papasavvas E, Klampatsa A, Putt M, Montaner LJ, Culligan MJ, McNulty S, Friedberg JS, Simone CB 2nd, Singhal S, Albelda SM, Cengel KA, Busch TM. Lasers Surg Med. 2018 Jul;50(5):440-450. doi: 10.1002/lsm.22934. Epub 2018 May 25. PMID:29799130
Light Fluence Dosimetry in Lung-simulating Cavities. Zhu TC, Kim MM, Padawer J, Dimofte A, Potasek M, Beeson K, Parilov E. Proc SPIE Int Soc Opt Eng. 2018 Jan-Feb;10476. pii: 104760F. doi: 10.1117/12.2291355. Epub 2018 Mar 5. PMID:29780196
A Two-Component Assay for Hypoxia Incorporating Long-Term Nitroreduction and Short-Term DNA-Damage Allows Differentiation of the Three Hypoxia Sub-types. Koch CJ. Radiat Res. 2018 Jul;190(1):72-87. doi: 10.1667/RR15029.1. Epub 2018 May 10. PMID:29746214
Development of a stress response therapy targeting aggressive prostate cancer. Nguyen HG, Conn CS, Kye Y, Xue L, Forester CM, Cowan JE, Hsieh AC, Cunningham JT, Truillet C, Tameire F, Evans MJ, Evans CP, Yang JC, Hann B, Koumenis C, Walter P, Carroll PR, Ruggero D. Sci Transl Med. 2018 May 2;10(439). pii: eaar2036. doi: 10.1126/scitranslmed.aar2036. PMID:29720449
Limitations in predicting the space radiation health risk for exploration astronauts. Chancellor JC, Blue RS, Cengel KA, Auñón-Chancellor SM, Rubins KH, Katzgraber HG, Kennedy AR. NPJ Microgravity. 2018 Apr 3;4:8. doi: 10.1038/s41526-018-0043-2. eCollection 2018. Review. PMID:29644336
Fluorescence-guided surgery and intervention - An AAPM emerging technology blue paper. Pogue BW, Zhu TC, Ntziachristos V, Paulsen KD, Wilson BC, Pfefer J, Nordstrom RJ, Litorja M, Wabnitz H, Chen Y, Gioux S, Tromberg BJ, Yodh AG. Med Phys. 2018 Jun;45(6):2681-2688. doi: 10.1002/mp.12909. Epub 2018 Apr 25. PMID:29633297
Combination Cancer Therapy with Immune Checkpoint Blockade: Mechanisms and Strategies. Patel SA, Minn AJ. Immunity. 2018 Mar 20;48(3):417-433. doi: 10.1016/j.immuni.2018.03.007. Review. PMID:29562193
The dark side of tumor-associated endothelial cells. De Sanctis F, Ugel S, Facciponte J, Facciabene A. Semin Immunol. 2018 Feb;35:35-47. doi: 10.1016/j.smim.2018.02.002. Epub 2018 Feb 26. Review. PMID:29490888
Image guidance doses delivered during radiotherapy: Quantification, management, and reduction: Report of the AAPM Therapy Physics Committee Task Group 180. Ding GX, Alaei P, Curran B, Flynn R, Gossman M, Mackie TR, Miften M, Morin R, Xu XG, Zhu TC. Med Phys. 2018 May;45(5):e84-e99. doi: 10.1002/mp.12824. Epub 2018 Mar 24. PMID:29468678
Gut microbiota modulates adoptive cell therapy via CD8α dendritic cells and IL-12. Uribe-Herranz M, Bittinger K, Rafail S, Guedan S, Pierini S, Tanes C, Ganetsky A, Morgan MA, Gill S, Tanyi JL, Bushman FD, June CH, Facciabene A. JCI Insight. 2018 Feb 22;3(4). pii: 94952. doi: 10.1172/jci.insight.94952. PMID:29467322
A Human Genome-Wide RNAi Screen Reveals Diverse Modulators that Mediate IRE1α-XBP1 Activation. Yang Z, Zhang J, Jiang D, Khatri P, Solow-Cordero DE, Toesca DAS, Koumenis C, Denko NC, Giaccia AJ, Le QT, Koong AC. Mol Cancer Res. 2018 May;16(5):745-753. doi: 10.1158/1541-7786.MCR-17-0307. Epub 2018 Feb 9. PMID:29440447
Vascular niche IL-6 induces alternative macrophage activation in glioblastoma through HIF-2α. Wang Q, He Z, Huang M, Liu T, Wang Y, Xu H, Duan H, Ma P, Zhang L, Zamvil SS, Hidalgo J, Zhang Z, O'Rourke DM, Dahmane N, Brem S, Mou Y, Gong Y, Fan Y. Nat Commun. 2018 Feb 8;9(1):559. doi: 10.1038/s41467-018-03050-0. PMID:29422647
Temporal DNA-PK activation drives genomic instability and therapy resistance in glioma stem cells. Wang Y, Xu H, Liu T, Huang M, Butter PP, Li C, Zhang L, Kao GD, Gong Y, Maity A, Koumenis C, Fan Y. JCI Insight. 2018 Feb 8;3(3). pii: 98096. doi: 10.1172/jci.insight.98096. PMID:29415883
Tumour endothelial marker 1/endosialin-mediated targeting of human sarcoma. Guo Y, Hu J, Wang Y, Peng X, Min J, Wang J, Matthaiou E, Cheng Y, Sun K, Tong X, Fan Y, Zhang PJ, Kandalaft LE, Irving M, Coukos G, Li C. Eur J Cancer. 2018 Feb;90:111-121. doi: 10.1016/j.ejca.2017.10.035. Epub 2018 Jan 4. PMID:29304474
A PERK-miR-211 axis suppresses circadian regulators and protein synthesis to promote cancer cell survival. Bu Y, Yoshida A, Chitnis N, Altman BJ, Tameire F, Oran A, Gennaro V, Armeson KE, McMahon SB, Wertheim GB, Dang CV, Ruggero D, Koumenis C, Fuchs SY, Diehl JA. Nat Cell Biol. 2018 Jan;20(1):104-115. doi: 10.1038/s41556-017-0006-y. Epub 2017 Dec 11. PMID:29230015
Trial watch: DNA-based vaccines for oncological indications. Pierini S, Perales-Linares R, Uribe-Herranz M, Pol JG, Zitvogel L, Kroemer G, Facciabene A, Galluzzi L. Oncoimmunology. 2017 Nov 20;6(12):e1398878. doi: 10.1080/2162402X.2017.1398878. eCollection 2017. Review. PMID:29209575
Maternal CD8+ T-cell depletion alleviates intrauterine inflammation-induced perinatal brain injury. Lei J, Xie L, Zhao H, Gard C, Clemens JL, McLane MW, Feller MC, Ozen M, Novak C, Alshehri W, Alhejaily N, Shabi Y, Rosenzweig JM, Facciabene A, Burd I. Am J Reprod Immunol. 2018 May;79(5):e12798. doi: 10.1111/aji.12798. Epub 2017 Dec 4. PMID:29205631
Synthetic Secoisolariciresinol Diglucoside (LGM2605) Protects Human Lung in an Ex Vivo Model of Proton Radiation Damage. Velalopoulou A, Chatterjee S, Pietrofesa RA, Koziol-White C, Panettieri RA, Lin L, Tuttle S, Berman A, Koumenis C, Christofidou-Solomidou M. Int J Mol Sci. 2017 Nov 25;18(12). pii: E2525. doi: 10.3390/ijms18122525. PMID:29186841
Close
---
Archived Publications
---
© The Trustees of the University of Pennsylvania | Site best viewed in a supported browser. | Site Design: PMACS Web Team.