News and Events
Research Updates
Research Updates
2018
---
2017
June
Congratulations to Dr. Yi Fan for recently receiving the following two awards: the Sharpe Award from National Brain Tumor Society (NBTS) and the Early Career Investigator Award from the Radiation Research Society (RRS).
May
Congratulations to Dr. Andrea Facciabene! He received an award at the Penn Center for Innovation Celebration for Innovation, held on May 3, 2017. Dr. Facciabene was honored for two US patents (# 9,289,426 and #9,290,556). Respectively, these inventions involve Methods and compositions for treating solid tumors and enhancing tumor vaccines and Tumor vascular marker-targeted vaccines.
February
Congratulations to all who received the Radiation Oncology Translational Center of Excellence (TCE) pilot awards!
Using Radiation and Blockade of Interferon Signaling to Improve Durable Response to Immune Checkpoint Blockade Co-PIs: Andy Minn, MD, PhD (RadOnc) & Taku Kambayashi, MD, PhD, (Pathology and Laboratory Medicine) Co-I: E. John Wherry, PhD (Microbiology)
PD-1 Blockade to Attenuate Surgery-Induced Immunosuppression during Intraoperative Photodynamic Therapy Co-PIs: Theresa Busch, PhD & Edmund Moon, MD (Medicine), Keith Cengel, MD, PhD Co-Is: Andrea Facciabene, PhD (RadOnc), Mary Putt, PhD, (Biostatistics and Epidemiology) & Sunil Singhal, MD (Surgery)
Hypofractionated radiotherapy as a vaccine in combination with the TLR7/8 agonist resiquimod for metastatic melanoma Co-PIs: Amit Maity, MD, PhD (RadOnc), George Xu, MD, PhD (Pathology and Laboratory Medicine), & Alain Rook, MD (Dermatology) Co-I: Andrea Facciabene, PhD (RadOnc)
Close
---
2016
The research division congratulates Dr. Theresa Busch and Dr. Zhiliang Cheng (Bioengineering) labs' for their proposal entitled Mesothelin-targeted nanophotosensitizer for photodynamic therapy of TNBC selected by the Center for Targeted Therapeutics and Translational Nanomedicine (CT3N) for funding.
We also congratulate Natalie Daurio in Koumenis Lab for a successful doctoral dissertation defense on March 28, 2016. The title of her thesis was "Tamoxifen Mediated Metabolic Stress: Molecular Mechanism and Therapeutic Opportunities.".
Congratulations to Dr. Gary Kao on the award of his R01 grant, Circulating Tumor Cells Analyses and Molecular Profiling for Patients Receiving Radiation Therapy, which was recently funded by the National Cancer Institute.
We also congratulate Dr. Stephen Avery on receiving R21 grant, Protoacoustics - Clinical Based Range Verification for Cancer Treatment. This project was funded by the National Institute of Biomedical Imaging and Bioengineering.
Congratulations to Dr. Yi Fan was recently honored as a recipient of the 2016 American Association for Cancer Research (AACR) Judah Folkman Career Development Award for Angiogenesis Research. Dr. Fan was selected for this award based on the relevance of his research to the AACR's mission and its expected impact in the field of cancer research. This award recognizes Dr. Fan's position as a burgeoning leader in cancer research.
The 2016 SUPERS program came to a close on Wednesday, August 3 with the end-of-the-program retreat where each of the fourteen SUPERS students presented a summary of their own hypothesis-driven research project. Student projects included research in molecular radiobiology, photodynamic therapy, proton dosimetry and nuclear medicine and PET imaging. In addition to their own hands-on lab experience, students took part in lectures and research discussions led by many of our faculty, as well as faculty from the departments of Radiology and Bioengineering. As the keynote speaker for the event, Dr. Michelle Alonso-Basanta from Penn Radiation Oncology described how her experiences as an undergraduate piqued her interest in a career as a clinician scientist. 2016 represented the 7th summer for the SUPERS program, to date SUPERS has graduated 80 alumni and the vast majority, nearly 90%, have gone on to graduate and/or medical school.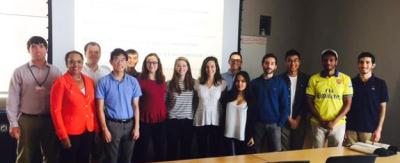 2016 SUPERS students pictured with Dr. Eve Higginbotham, Vice Dean for Inclusion and Diversity at the Perelman School of Medicine. Dr. Higginbotham shared her own formative experiences as an undergrad while stressing the importance of diversity and inclusion to the future of research and medicine in the biomedical research community.
Close
---
2015
PDT: It's Not Just For People! - Check out this link for a story on how photodynamic therapy was recently used to treat Anita the horse for squamous cell cancer that surrounded both of her eyes. Photodynamic therapy, or PDT as it is frequently called, utilizes a light-sensitize drug and lasers to kill cancer cells. Anita's treatment was possible through the collaborative effort of Penn Medicine's Radiation Oncology and Penn Vet's Large Animal Ophthalmology. PDT is studied for treating cancer in people by Radiation Oncology physicians, physicists, and scientists through a multidisciplinary grant that is funded by the National Institutes of Health. It is currently under investigation through the Abramson Cancer Center for the treatment of malignant pleural mesothelioma in conjunction with surgery.
The Research Division congratulates Dr. Cameron Koch on receiving the Outstanding Research Award along with the late Dr. James Raleigh of University of North Carolina at Chapel Hill. This award was presented by Members of the Tumor Microenvironment Research Community at the 14th International Tumor Microenvironment Workshop in Vancouver, British Columbia. It is in recognition of Dr. Koch's contributions to the identification, characterization and targeting of the tumor microenvironment for the advancement of cancer therapy and patient care.
We congratulate Dr. Andy Minn as the recipient of the 2015 Scientific Research Award presented by the American Cancer Society in honor of his outstanding leadership and accomplishments among local cancer professionals.
Additionally, congratulations are in order for Dr. Yi Fan on receiving the McCabe Award from the Perlman School of Medicine for his work on targeting endothelial plasticity to treat brain tumors.
At the recent departmental retreat, Drs. Minn and Fan were further recognized for their achievements through awards for the Radiation Oncology Innovation Award and the Radiation Oncology Young Investigator Award of Excellence, respectively. The Innovation Award was presented to Dr. Minn in recognition of his novel and creative contributions to the field of Radiation Oncology. Dr. Fan received the Young Investigator Award of Excellence as a new faculty member in department (< 3 years) who has shown exemplary performance in the area of clinical service, research or teaching.
Congratulations to Drs. Jay Dorsey and Yi Fan who individually received grants on NeuroOncology Innovation from the Neuro Translational Center of Excellence of the Abramson Cancer Center. Dr. Dorsey is studying Glioma - derived Circulating Tumor Cells, while Dr. Fan's proposal is on the topic of Development of Next-Generation Vasculotherapy by Targeting Vascular Transformation. Finally, we recognize Dr. Fan on the success of his R01 grant Endothelial Plasticity in Glioma Vascularization and Therapy Resistance. This award is expected to begin in October of 2015 and includes Radiation Oncology co-investigator Dr. Jay Dorsey. This is Dr. Fan's first R01 grant and the Division shares with him our hearty congratulations.
The Research Division congratulates Dr. Andy Minn on receiving the Michael S. Brown New Investigator Research Award. This award is given by the Perelman School of Medicine for the purpose of recognizing emerging investigators who are engaged in innovative discoveries. Dr. Minn was selected for this award based on his work in studying radiation and immune therapies as they relate to the biological basis of therapeutic cancer resistance.
Close
---
Recent Division Publications
Shabason JE, Minn AJ. Radiation and Immune Checkpoint Blockade: From Bench to Clinic. Semin Radiat Oncol. 2017 Jul;27(3):289-98; PMID:28577836.
Sattiraju A, Xiong X, Pandya DN, Wadas TJ, Xuan A, Sun Y, Jung Y, Solingapuram Sai KK, Dorsey JF, Li KC, Mintz A. Alpha particle enhanced Blood Brain/Tumor Barrier permeabilization in glioblastomas using integrin alpha-v beta-3 targeted liposomes. Mol Cancer Ther. 2017 Jun 15; PMID:28619756.
Alley EW, Katz SI, Cengel KA, Simone CB, 2nd. Immunotherapy and radiation therapy for malignant pleural mesothelioma. Transl Lung Cancer Res. 2017 Apr;6(2):212-9; PMID:28529903; PMCID: PMC5420537.
Das IJ, Andersen A, Chen ZJ, Dimofte A, Glatstein E, Hoisak J, Huang L, Langer MP, Lee C, Pacella M, Popple RA, Rice R, Smilowitz J, Sponseller P, Zhu T. State of dose prescription and compliance to international standard (ICRU-83) in intensity modulated radiation therapy among academic institutions. Pract Radiat Oncol. 2017 Mar - Apr;7(2):e145-e55; PMID:28274405.
Nabet BY, Qiu Y, Shabason JE, Wu TJ, Yoon T, Kim BC, Benci JL, DeMichele AM, Tchou J, Marcotrigiano J, Minn AJ. Exosome RNA Unshielding Couples Stromal Activation to Pattern Recognition Receptor Signaling in Cancer. Cell. 2017;170(2):352-66 e13, PMID:28709002.
Harding SM, Benci JL, Irianto J, Discher DE, Minn AJ, Greenberg RA. Mitotic progression following DNA damage enables pattern recognition within micronuclei. Nature. 2017; PMID: 28759889.
Sivanand S, Rhoades S, Jiang Q, Lee JV, Benci J, Zhang J, Yuan S, Viney I, Zhao S, Carrer A, Bennett MJ, Minn AJ, Weljie AM, Greenberg RA, Wellen KE. Nuclear Acetyl-CoA Production by ACLY Promotes Homologous Recombination. Mol Cell. 2017;67(2):252-65 e6; PMID: 28689661.
Baumann BC, Zeng C, Freedman GM, Verginadis, II, MacArthur KM, Lin LL, Vachani C, Koumenis C, Solberg TD, Metz JM. Avoiding antiperspirants during breast radiation therapy: Myth or sound advice? Radiother Oncol. 2017; PMID: 28733055.
Mohapatra PP, Chiemezie CO, Kligman A, Kim MM, Busch TM, Zhu TC, Greer A. 31 P NMR Evidence for Peroxide Intermediates in Lipid Emulsion Photooxidations: Phosphine Substituent Effects in Trapping. Photochem Photobiol. 2017; PMID: 28722754.
Lei J, Rosenzweig JM, Mishra MK, Alshehri W, Brancusi F, McLane M, Almalki A, Bahabry R, Arif H, Rozzah R, Alyousif G, Shabi Y, Alhehaily N, Zhong W, Facciabene A, Kannan S, Kannan RM, Burd I. Maternal dendrimer-based therapy for inflammation-induced preterm birth and perinatal brain injury. Sci Rep. 2017;7(1):6106. PMCID:28733619, PMC5522481.
Yang L, Zhang Y, Shan W, Hu Z, Yuan J, Pi J, Wang Y, Fan L, Tang Z, Li C, Hu X, Tanyi JL, Fan Y, Huang Q, Montone K, Dang CV, Zhang L. Repression of BET activity sensitizes homologous recombination-proficient cancers to PARP inhibition. Sci Transl Med. 2017;9(400); PMID: 28747513.
Chandra A, Wang L, Young T, Zhong L, Tseng WJ, Levine MA, Cengel K, Liu XS, Zhang Y, Pignolo RJ, Qin L. Proteasome inhibitor bortezomib is a novel therapeutic agent for focal radiation-induced osteoporosis. FASEB J. 2017; PMID: 28860152.
Brady LK, Wang H, Radens CM, Bi Y, Radovich M, Maity A, Ivan C, Ivan M, Barash Y, Koumenis C. Transcriptome analysis of hypoxic cancer cells uncovers intron retention in EIF2B5 as a mechanism to inhibit translation. PLoS Biol. 2017;15(9):e2002623; PMID: 28961236; PMCID: PMC5636171.
Christofidou-Solomidou M, Pietrofesa RA, Arguiri E, Koumenis C, Segal R. Radiation Mitigating Properties of Intranasally Administered Kl4 Surfactant in a Murine Model of Radiation-Induced Lung Damage. Radiat Res. 2017; PMID: 28877030; PMCID: PMC5704933
Benci JL, Minn AJ, Vachani CC, Bach C, Arnold-Korzeniowski K, Hampshire MK, Metz JM, Hill-Kayser CE. Survivorship care planning in skin cancer: An unbiased statistical approach to identifying patterns of care-plan use. Cancer. 2017; PMID: 28885696.
Facciabene A, De Sanctis F, Pierini S, Reis ES, Balint K, Facciponte J, Rueter J, Kagabu M, Magotti P, Lanitis E, DeAngelis RA, Buckanovich RJ, Song WC, Lambris JD, Coukos G. Local endothelial complement activation reverses endothelial quiescence, enabling t-cell homing, and tumor control during t-cell immunotherapy. Oncoimmunology. 2017;6(9):e1326442. PMCID: 28932632, PMC5599081.
Hoppe BS, Hill-Kayser CE, Tseng YD, Flampouri S, Elmongy HM, Cahlon O, Mendenhall NP, Maity A, McGee LA, Plastaras JP. Consolidative proton therapy after chemotherapy for patients with Hodgkin lymphoma. Ann Oncol. 2017;28(9):2179-84; PMID: 28911093.
Patel AM, Berger I, Wileyto EP, Khalid U, Torigian DA, Nachiappan AC, Barbosa EM, Jr., Gefter WB, Galperin-Aizenberg M, Gupta NK, Simone CB, 2nd, Haas AR, Alley EW, Singhal S, Cengel KA, Katz SI. The value of delayed phase enhanced imaging in malignant pleural mesothelioma. J Thorac Dis. 2017;9(8):2344-9. PMCID:28932538, PMC5594138.
Verginadis, II, Kanade R, Bell B, Koduri S, Ben-Josef E, Koumenis C. A Novel Mouse Model to Study Image-Guided, Radiation-Induced Intestinal Injury and Preclinical Screening of Radioprotectors. Cancer Res. 2017;77(4):908-17.
Kim MM, Ghogare AA, Greer A, Zhu TC. On the in vivo photochemical rate parameters for PDT reactive oxygen species modeling. Phys Med Biol. 2017;62(5):R1-48.
Qiu H, Kim MM, Penjweini R, Finlay JC, Busch TM, Wang T, Guo W, Cengel KA, Simone CB, 2nd, Glatstein E, Zhu TC. A Comparison of Dose Metrics to Predict Local Tumor Control for Photofrin-mediated Photodynamic Therapy. Photochem Photobiol. 2017.
Friedberg JS, Simone CB, 2nd, Culligan MJ, Barsky AR, Doucette A, McNulty S, Hahn SM, Alley E, Sterman DH, Glatstein E, Cengel KA. Extended Pleurectomy-Decortication-Based Treatment for Advanced Stage Epithelial Mesothelioma Yielding a Median Survival of Nearly Three Years. Ann Thorac Surg. 2017;103(3):912-9.
Katlinski KV, Gui J, Katlinskaya YV, Ortiz A, Chakraborty R, Bhattacharya S, Carbone CJ, Beiting DP, Girondo MA, Peck AR, Pure E, Chatterji P, Rustgi AK, Diehl JA, Koumenis C, Rui H, Fuchs SY. Inactivation of Interferon Receptor Promotes the Establishment of Immune Privileged Tumor Microenvironment. Cancer Cell. 2017;31(2):194-207. PMCID: PMC5313042.
Chandra A, Lin T, Young T, Tong W, Ma X, Tseng WJ, Kramer I, Kneissel M, Levine MA, Zhang Y, Cengel K, Liu XS, Qin L. Suppression of Sclerostin Alleviates Radiation-Induced Bone Loss by Protecting Bone-Forming Cells and Their Progenitors Through Distinct Mechanisms. J Bone Miner Res. 2017;32(2):360-72.
Gemmell NR, McCarthy A, Kim MM, Veilleux I, Zhu TC, Buller GS, Wilson BC, Hadfield RH. A compact fiber-optic probe-based singlet oxygen luminescence detection system. J Biophotonics. 2017;10(2):320-6. PMCID: PMC5266677.
Benci JL, Xu B, Qiu Y, Wu TJ, Dada H, Twyman-Saint Victor C, Cucolo L, Lee DS, Pauken KE, Huang AC, Gangadhar TC, Amaravadi RK, Schuchter LM, Feldman MD, Ishwaran H, Vonderheide RH, Maity A, Wherry EJ, Minn AJ. Tumor Interferon Signaling Regulates a Multigenic Resistance Program to Immune Checkpoint Blockade. Cell. 2016;167(6):1540-54 e12.
Kim MM, Penjweini R, Gemmell NR, Veilleux I, McCarthy A, Buller GS, Hadfield RH, Wilson BC, Zhu TC.
A Comparison of Singlet Oxygen Explicit Dosimetry (SOED) and Singlet Oxygen Luminescence Dosimetry (SOLD) for Photofrin-Mediated Photodynamic Therapy. Cancers (Basel). 2016;8(12). PMCID: PMC5187507.
Ong YH, Zhu TC.Analytic function for predicting light fluence rate of circular fields on a semi-infinite turbid medium. Opt Express. 2016;24(23):26261-81. PMCID: PMC5234503.
Liu TR, Xiao ZW, Xu HN, Long Z, Wei FQ, Zhuang SM, Sun XM, Xie LE, Mu JS, Yang AK, Zhang GP, Fan Y. Treatment and Prognosis of Anaplastic Thyroid Carcinoma: A Clinical Study of 50 Cases. PLoS One. 2016;11(10):e0164840.
Kim MM, Penjweini R, Liang X, Zhu TC. Explicit macroscopic singlet oxygen modeling for benzoporphyrin derivative monoacid ring A (BPD)-mediated photodynamic therapy. J Photochem Photobiol B. 2016;164:314-22. PMCID: PMC5079817.
Penjweini R, Kim MM, Liu B, Zhu TC. Evaluation of the 2-(1-Hexyloxyethyl)-2-devinyl pyropheophorbide (HPPH) mediated photodynamic therapy by macroscopic singlet oxygen modeling. J Biophotonics. 2016.
Qiu H, Kim MM, Penjweini R, Zhu TC. Macroscopic singlet oxygen modeling for dosimetry of Photofrin-mediated photodynamic therapy: an in-vivo study. J Biomed Opt. 2016;21(8):88002.
Kennedy AR, Maity A, Sanzari JK. A Review of Radiation-Induced Coagulopathy and New Findings to Support Potential Prevention Strategies and Treatments. Radiat Res. 2016.
Brady LK, Popov V, Koumenis C. In Vivo Interrogation of the Hypoxic Transcriptome of Solid Tumors: Optimizing Hypoxic Probe Labeling with Laser Capture Microdissection for Isolation of High-Quality RNA for Deep Sequencing Analysis. Adv Exp Med Biol. 2016;899:41-58.
Sun L, Joh DY, Al-Zaki A, Stangl M, Murty S, Davis JJ, Baumann BC, Alonso-Basanta M, Kaol GD, Tsourkas A, Dorsey JF. Theranostic Application of Mixed Gold and Superparamagnetic Iron Oxide Nanoparticle Micelles in Glioblastoma Multiforme. J Biomed Nanotechnol. 2016;12(2):347-56. PMCID: PMC4942305.
Cengel KA, Simone CB, 2nd, Glatstein E. PDT: What's Past Is Prologue. Cancer Res. 2016;76(9):2497-9.
Gabriel PE, Woodhouse KD, Lin A, Finlay JC, Young RB, Volz E, Hahn SM, Metz JM, Maity A.
An automated electronic system for managing radiation treatment plan peer review reduces missed reviews at a large, high-volume academic center. Pract Radiat Oncol. 2016.
Minn AJ, Wherry EJ. Combination Cancer Therapies with Immune Checkpoint Blockade: Convergence on Interferon Signaling. Cell. 2016;165(2):272-5.
Huang M, Liu T, Ma P, Mitteer RA, Jr., Zhang Z, Kim HJ, Yeo E, Zhang D, Cai P, Li C, Zhang L, Zhao B, Roccograndi L, O'Rourke DM, Dahmane N, Gong Y, Koumenis C, Fan Y. c-Met-mediated endothelial plasticity drives aberrant vascularization and chemoresistance in glioblastoma. J Clin Invest. 2016.
Woodhouse KD, Volz E, Maity A, Gabriel PE, Solberg TD, Bergendahl HW, Hahn SM. Journey Toward High Reliability: A Comprehensive Safety Program to Improve Quality of Care and Safety Culture in a Large, Multisite Radiation Oncology Department. J Oncol Pract. 2016;12(5):e603-12.
Daurio NA, Tuttle SW, Worth AJ, Song EY, Davis JM, Snyder NW, Blair IA, Koumenis C. AMPK Activation and Metabolic Reprogramming by Tamoxifen through Estrogen Receptor-Independent Mechanisms Suggests New Uses for This Therapeutic Modality in Cancer Treatment. Cancer Res. 2016.
Ahn PH, Quon H, O'Malley BW, Weinstein G, Chalian A, Malloy K, Atkins JH, Sollecito T, Greenberg M, McNulty S, Lin A, Zhu TC, Finlay JC, Cengel K, Livolsi V, Feldman M, Mick R, Busch TM. Toxicities and early outcomes in a phase 1 trial of photodynamic therapy for premalignant and early stage head and neck tumors. 2016;55:37-42. PMCID: PMC4943020.
Grossman CE, Carter SL, Czupryna J, Wang L, Putt ME, Busch TM. Fluence Rate Differences in Photodynamic Therapy Efficacy and Activation of Epidermal Growth Factor Receptor after Treatment of the Tumor-Involved Murine Thoracic Cavity. Int J Mol Sci. 2016;17(1). PMCID: PMC4730343.
Evans SM, Putt M, Yang XY, Lustig RA, Martinez-Lage M, Williams D, Desai A, Wolf R, Brem S, Koch CJ. Initial evidence that blood-borne microvesicles are biomarkers for recurrence and survival in newly diagnosed glioblastoma patients. J Neurooncol. 2016;127(2):391-400. PMCID: PMC4783260.
Xu MJ, Dorsey JF, Amaravadi R, Karakousis G, Simone CB, 2nd, Xu X, Xu W, Carpenter EL, Schuchter L, Kao GD. Circulating Tumor Cells, DNA, and mRNA: Potential for Clinical Utility in Patients With Melanoma. Oncologist. 2016;21(1):84-94. PMCID: PMC4709205.
Milgrom SA, Jauhari S, Plastaras JP, Nieto Y, Dabaja BS, Pinnix CC, Smith GL, Allen PK, Lukens JN, Maity A, Oki Y, Fanale MA, Nasta SD. A multi-institutional analysis of peritransplantation radiotherapy in patients with relapsed/refractory Hodgkin lymphoma undergoing autologous stem cell transplantation. Cancer. 2016.
Zhang B, Wong JW, Iordachita, II, Reyes J, Nugent K, Tran PT, Tuttle SW, Koumenis C, Wang KK. Evaluation of On- and Off-Line Bioluminescence Tomography System for Focal Irradiation Guidance. Radiat Res. 2016.
Wang P, Cammin J, Bisello F, Solberg TD, McDonough JE, Zhu TC, Menichelli D, Teo BK. roton computed tomography using a 1D silicon diode array. Med Phys. 2016;43(10):5758.
Jiang Y, Qiu Y, Minn AJ, Zhang NR. Assessing intratumor heterogeneity and tracking longitudinal and spatial clonal evolutionary history by next-generation sequencing. Proc Natl Acad Sci U S A. 2016;113(37):E5528-37. PMCID: PMC5027458.
Pietrofesa RA, Velalopoulou A, Lehman SL, Arguiri E, Solomides P, Koch CJ, Mishra OP, Koumenis C, Goodwin TJ, Christofidou-Solomidou M. Novel Double-Hit Model of Radiation and Hyperoxia-Induced Oxidative Cell Damage Relevant to Space Travel. Int J Mol Sci. 2016;17(6). PMCID: PMC4926486.
Shah S, Carriveau WJ, Li J, Campbell SL, Kopinski PK, Lim HW, Daurio N, Trefely S, Won KJ, Wallace DC, Koumenis C, Mancuso A, Wellen KE. Targeting ACLY sensitizes castration-resistant prostate cancer cells to AR antagonism by impinging on an ACLY-AMPK-AR feedback mechanism. Oncotarget. 2016.
Xu Z, Bu Y, Chitnis N, Koumenis C, Fuchs SY, Diehl JA. miR-216b regulation of c-Jun mediates GADD153/CHOP-dependent apoptosis. Nat Commun. 2016;7:11422. PMCID: PMC4869177.
Zhang Y, He Q, Hu Z, Feng Y, Fan L, Tang Z, Yuan J, Shan W, Li C, Hu X, Tanyi JL, Fan Y, Huang Q, Montone K, Dang CV, Zhang L. Long noncoding RNA LINP1 regulates repair of DNA double-strand breaks in triple-negative breast cancer. Nat Struct Mol Biol. 2016;23(6):522-30. PMCID: PMC4927085.
Katlinskaya YV, Katlinski KV, Yu Q, Ortiz A, Beiting DP, Brice A, Davar D, Sanders C, Kirkwood JM, Rui H, Xu X, Koumenis C, Diehl JA, Fuchs SY. Suppression of Type I Interferon Signaling Overcomes Oncogene-Induced Senescence and Mediates Melanoma Development and Progression. Cell Rep. 2016;15(1):171-80. PMCID: PMC4826807.
Wander SA, Zhao D, Besser AH, Hong F, Wei J, Ince TA, Milikowski C, Bishopric NH, Minn AJ, Creighton CJ, Slingerland JM. Erratum to: PI3K/mTOR inhibition can impair tumor invasion and metastasis in vivo despite a lack of antiproliferative action in vitro: implications for targeted therapy. Breast Cancer Res Treat. 2016;156(2):405-6.
Sterman DH, Alley E, Stevenson JP, Friedberg J, Metzger S, Recio A, Moon EK, Haas AR, Vachani A, Katz SI, Sun J, Heitjan D, Hwang WT, Litzky L, Yearley JH, Tan KS, Papasavvas E, Kennedy P, Montaner L, Cengel KA, Simone CB, Culligan M, Langer C, Albelda SM. Pilot and Feasibility Trial Evaluating Immuno-Gene Therapy of Malignant Mesothelioma Using Intrapleural Delivery of Adenovirus-IFNα Combined with Chemotherapy. Clin Cancer Res. 2016.
Rimner A, Simone CB, 2nd, Zauderer MG, Cengel KA, Rusch VW. Hemithoracic radiotherapy for mesothelioma: lack of benefit or lack of statistical power? Lancet Oncol. 2016;17(2):e43-4.
Woodhouse KD, Volz E, Bellerive M, Bergendahl HW, Gabriel PE, Maity A, Hahn SM, Vapiwala N. The implementation and assessment of a quality and safety culture education program in a large radiation oncology department. Pract Radiat Oncol. 2016;6(4):e127-34.
Klionsky DJ et al. Guidelines for the use and interpretation of assays for monitoring autophagy (3rd edition). Autophagy. 2016;12(1):1-222.
Zhang Y, Feng Y, Hu Z, Hu X, Yuan CX, Fan Y, Zhang L. Characterization of Long Noncoding RNA-Associated Proteins by RNA-Immunoprecipitation. Methods Mol Biol. 2016;1402:19-26. PMCID: PMC4773202.
Ghogare AA, Miller JM, Mondal B, Lyons AM, Cengel KA, Busch TM, Greer A. Fluorinated Photodynamic Therapy Device Tips and their Resistance to Fouling for In Vivo Sensitizer Release. Photochem Photobiol. 2016;92(1):166-72. PMCID: PMC4839978.
Close
---
© The Trustees of the University of Pennsylvania | Site best viewed in a supported browser. | Site Design: PMACS Web Team.