News and Events
Research Updates
Research Updates
June 2017
Congratulations to Dr. Yi Fan for recently receiving the following two awards: the Sharpe Award from National Brain Tumor Society (NBTS) and the Early Career Investigator Award from the Radiation Research Society (RRS).
May 2017
Congratulations to Dr. Andrea Facciabene! He received an award at the Penn Center for Innovation Celebration for Innovation, held on May 3, 2017. Dr. Facciabene was honored for two US patents (# 9,289,426 and #9,290,556). Respectively, these inventions involve Methods and compositions for treating solid tumors and enhancing tumor vaccines and Tumor vascular marker-targeted vaccines.
February 2017
Congratulations to all who received the Radiation Oncology Translational Center of Excellence (TCE) pilot awards!
Using Radiation and Blockade of Interferon Signaling to Improve Durable Response to Immune Checkpoint Blockade Co-PIs: Andy Minn, MD, PhD (RadOnc) & Taku Kambayashi, MD, PhD, (Pathology and Laboratory Medicine) Co-I: E. John Wherry, PhD (Microbiology)
PD-1 Blockade to Attenuate Surgery-Induced Immunosuppression during Intraoperative Photodynamic Therapy Co-PIs: Theresa Busch, PhD & Edmund Moon, MD (Medicine), Keith Cengel, MD, PhD Co-Is: Andrea Facciabene, PhD (RadOnc), Mary Putt, PhD, (Biostatistics and Epidemiology) & Sunil Singhal, MD (Surgery)
Hypofractionated radiotherapy as a vaccine in combination with the TLR7/8 agonist resiquimod for metastatic melanoma Co-PIs: Amit Maity, MD, PhD (RadOnc), George Xu, MD, PhD (Pathology and Laboratory Medicine), & Alain Rook, MD (Dermatology) Co-I: Andrea Facciabene, PhD (RadOnc)
October 2016
Congratulations to Dr. Gary Kao on the award of his R01 grant, Circulating Tumor Cells Analyses and Molecular Profiling for Patients Receiving Radiation Therapy, which was recently funded by the National Cancer Institute.
We also congratulate Dr. Stephen Avery on receiving R21 grant, Protoacoustics - Clinical Based Range Verification for Cancer Treatment. This project was funded by the National Institute of Biomedical Imaging and Bioengineering.
Congratulations to Dr. Yi Fan was recently honored as a recipient of the 2016 American Association for Cancer Research (AACR) Judah Folkman Career Development Award for Angiogenesis Research. Dr. Fan was selected for this award based on the relevance of his research to the AACR's mission and its expected impact in the field of cancer research. This award recognizes Dr. Fan's position as a burgeoning leader in cancer research.
Close
---
SUPERS 2016
The 2016 SUPERS program came to a close on Wednesday, August 3 with the end-of-the-program retreat where each of the fourteen SUPERS students presented a summary of their own hypothesis-driven research project. Student projects included research in molecular radiobiology, photodynamic therapy, proton dosimetry and nuclear medicine and PET imaging. In addition to their own hands-on lab experience, students took part in lectures and research discussions led by many of our faculty, as well as faculty from the departments of Radiology and Bioengineering. As the keynote speaker for the event, Dr. Michelle Alonso-Basanta from Penn Radiation Oncology described how her experiences as an undergraduate piqued her interest in a career as a clinician scientist. 2016 represented the 7th summer for the SUPERS program, to date SUPERS has graduated 80 alumni and the vast majority, nearly 90%, have gone on to graduate and/or medical school.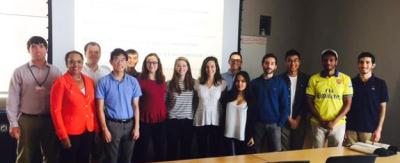 2016 SUPERS students pictured with Dr. Eve Higginbotham, Vice Dean for Inclusion and Diversity at the Perelman School of Medicine. Dr. Higginbotham shared her own formative experiences as an undergrad while stressing the importance of diversity and inclusion to the future of research and medicine in the biomedical research community.
Close
---
April 2016
The research division congratulates Dr. Theresa Busch and Dr. Zhiliang Cheng (Bioengineering) labs' for their proposal entitled Mesothelin-targeted nanophotosensitizer for photodynamic therapy of TNBC selected by the Center for Targeted Therapeutics and Translational Nanomedicine (CT3N) for funding.
We also congratulate Natalie Daurio in Koumenis Lab for a successful doctoral dissertation defense on March 28, 2016. The title of her thesis was "Tamoxifen Mediated Metabolic Stress: Molecular Mechanism and Therapeutic Opportunities.".
Close
---
September 2015
PDT: It's Not Just For People! - Check out this link for a story on how photodynamic therapy was recently used to treat Anita the horse for squamous cell cancer that surrounded both of her eyes. Photodynamic therapy, or PDT as it is frequently called, utilizes a light-sensitize drug and lasers to kill cancer cells. Anita's treatment was possible through the collaborative effort of Penn Medicine's Radiation Oncology and Penn Vet's Large Animal Ophthalmology. PDT is studied for treating cancer in people by Radiation Oncology physicians, physicists, and scientists through a multidisciplinary grant that is funded by the National Institutes of Health. It is currently under investigation through the Abramson Cancer Center for the treatment of malignant pleural mesothelioma in conjunction with surgery.
The Research Division congratulates Dr. Cameron Koch on receiving the Outstanding Research Award along with the late Dr. James Raleigh of University of North Carolina at Chapel Hill. This award was presented by Members of the Tumor Microenvironment Research Community at the 14th International Tumor Microenvironment Workshop in Vancouver, British Columbia. It is in recognition of Dr. Koch's contributions to the identification, characterization and targeting of the tumor microenvironment for the advancement of cancer therapy and patient care.
We congratulate Dr. Andy Minn as the recipient of the 2015 Scientific Research Award presented by the American Cancer Society in honor of his outstanding leadership and accomplishments among local cancer professionals.
Additionally, congratulations are in order for Dr. Yi Fan on receiving the McCabe Award from the Perlman School of Medicine for his work on targeting endothelial plasticity to treat brain tumors.
At the recent departmental retreat, Drs. Minn and Fan were further recognized for their achievements through awards for the Radiation Oncology Innovation Award and the Radiation Oncology Young Investigator Award of Excellence, respectively. The Innovation Award was presented to Dr. Minn in recognition of his novel and creative contributions to the field of Radiation Oncology. Dr. Fan received the Young Investigator Award of Excellence as a new faculty member in department (< 3 years) who has shown exemplary performance in the area of clinical service, research or teaching.
Congratulations to Drs. Jay Dorsey and Yi Fan who individually received grants on NeuroOncology Innovation from the Neuro Translational Center of Excellence of the Abramson Cancer Center. Dr. Dorsey is studying Glioma - derived Circulating Tumor Cells, while Dr. Fan's proposal is on the topic of Development of Next-Generation Vasculotherapy by Targeting Vascular Transformation. Finally, we recognize Dr. Fan on the success of his R01 grant Endothelial Plasticity in Glioma Vascularization and Therapy Resistance. This award is expected to begin in October of 2015 and includes Radiation Oncology co-investigator Dr. Jay Dorsey. This is Dr. Fan's first R01 grant and the Division shares with him our hearty congratulations.
Close
---
December 2015
The Research Division congratulates Dr. Andy Minn on receiving the Michael S. Brown New Investigator Research Award. This award is given by the Perelman School of Medicine for the purpose of recognizing emerging investigators who are engaged in innovative discoveries. Dr. Minn was selected for this award based on his work in studying radiation and immune therapies as they relate to the biological basis of therapeutic cancer resistance.
Close
---
Recent Division Publications
---
© The Trustees of the University of Pennsylvania | Site best viewed in a supported browser. | Site Design: PMACS Web Team.